Stylefile Marker Brush
The Stylefile Marker Brush is the new masterpiece: equipped with a flat and pointed, flexible rubber tip. This makes the Stylefile Marker Brush the perfect marker for coloring large surfaces. Like a brush, the spitze, rubber tip is flexible and varies in line width from 1 to approx. 6 mm.
Features
– ergonomic design, good grip
– color and tip markings on the cap
– Roll-stop
– constant ink supply, in many colors
– best results in the Stylefile Marker Blackbooks
– 122 colors + blender + black
Read more
Share your thoughts!
Let us know what you think...
View or write reviews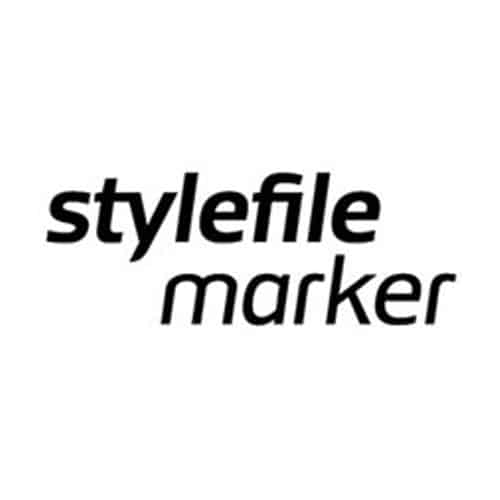 € 3.50
Available, shipped the same day
| | | | | | |
| --- | --- | --- | --- | --- | --- |
| | | Colorless Blender | € 3.50 | 5 | |
| | | Cream | € 3.50 | 2 | |
| | | Brown Grey | € 3.50 | 3 | |
| | | Walnut | € 3.50 | 3 | |
| | | Yellow Ochre | € 3.50 | 4 | |
| | | Barium Yellow | € 3.50 | 1 | |
| | | Canaria Yellow | € 3.50 | 3 | |
| | | Pastel Yellow | € 3.50 | 6 | |
| | | Yellow | € 3.50 | 2 | |
| | | Olive Yellow | € 3.50 | 2 | |
| | | Dark Yellow | € 3.50 | 5 | |
| | | Lemon Yellow | € 3.50 | 4 | |
| | | Melon Yellow | € 3.50 | 2 | |
| | | Sunflower | € 3.50 | 3 | |
| | | Deep Yellow | € 3.50 | 2 | |
| | | Marigold | € 3.50 | 2 | |
| | | Salmon Pink | € 3.50 | 2 | |
| | | Rose Beige | € 3.50 | 2 | |
| | | Potato Brown | € 3.50 | 2 | |
| | | Terra Cotta | € 3.50 | 3 | |
| | | French Vermilion | € 3.50 | 2 | |
| | | Orange | € 3.50 | 1 | |
| | | Barely Beige | € 3.50 | 4 | |
| | | Pastel Peach | € 3.50 | 3 | |
| | | Powder Pink | € 3.50 | 2 | |
| | | Fruit Pink | € 3.50 | 4 | |
| | | Pale Pink | € 3.50 | 1 | |
| | | Pastel Rose | € 3.50 | 2 | |
| | | Coral Pink | € 3.50 | 3 | |
| | | Scarlet | € 3.50 | 7 | |
| | | Vivid Red | € 3.50 | 2 | |
| | | Cherry Pink | € 3.50 | 4 | |
| | | Coral Red | € 3.50 | 3 | |
| | | Carmine | € 3.50 | 1 | |
| | | Vermilion | € 3.50 | 3 | |
| | | Deep Red | € 3.50 | 4 | |
| | | Rose Red | € 3.50 | 3 | |
| | | Geranium | € 3.50 | 4 | |
| | | Old Red | € 3.50 | 11 | |
| | | Wine Red | € 3.50 | 2 | |
| | | Dark Violet Light | € 3.50 | 2 | |
| | | Pale Blue Violet | € 3.50 | 1 | |
| | | Pastel Pink | € 3.50 | 2 | |
| | | Pastel Violet | € 3.50 | 2 | |
| | | Lavender | € 3.50 | 2 | |
| | | Pale Purple | € 3.50 | 3 | |
| | | Rose Pink | € 3.50 | 6 | |
| | | Cerise | € 3.50 | 4 | |
| | | Vivid Pink | € 3.50 | 1 | |
| | | Vivid Reddish Pink | € 3.50 | 3 | |
| | | Azalea Purple | € 3.50 | 1 | |
| | | Vivid Purple | € 3.50 | 2 | |
| | | Light Violet | € 3.50 | 2 | |
| | | Deep Violet | € 3.50 | 3 | |
| | | Sky Blue | € 3.50 | 4 | |
| | | Marine Blue | € 3.50 | 7 | |
| | | Pastel Blue | € 3.50 | 4 | |
| | | Baby Blue | € 3.50 | 8 | |
| | | Cerulean Blue | € 3.50 | 3 | |
| | | Prussian Blue | € 3.50 | 2 | |
| | | Cobalt Blue | € 3.50 | 6 | |
| | | Brilliant Blue | € 3.50 | 5 | |
| | | Napoleon Blue | € 3.50 | 4 | |
| | | Ultramarine | € 3.50 | 1 | |
| | | Royal Blue | € 3.50 | 9 | |
| | | Indian Blue | € 3.50 | 3 | |
| | | Ice Blue | € 3.50 | 2 | |
| | | Turquoise Blue | € 3.50 | 1 | |
| | | Dark Green | € 3.50 | 2 | |
| | | Forest Green | € 3.50 | 3 | |
| | | Turquoise Green Light | € 3.50 | 1 | |
| | | Mint Green Light | € 3.50 | 3 | |
| | | Peacock Green | € 3.50 | 2 | |
| | | Deep Olive Green | € 3.50 | 2 | |
| | | Mint Green | € 3.50 | 5 | |
| | | Emerald Green | € 3.50 | 1 | |
| | | Viridian | € 3.50 | 2 | |
| | | Turquoise Green | € 3.50 | 6 | |
| | | Deep Green | € 3.50 | 3 | |
| | | Yellow Green | € 3.50 | 5 | |
| | | Bronze Green | € 3.50 | 2 | |
| | | Pale Green | € 3.50 | 2 | |
| | | Grass Green | € 3.50 | 4 | |
| | | Burnt Sienna | € 3.50 | 4 | |
| | | Bronze | € 3.50 | 3 | |
| | | Chocolate | € 3.50 | 2 | |
| | | Chestnut Brown | € 3.50 | 2 | |
| | | Mahogany | € 3.50 | 2 | |
| | | Brick Brown | € 3.50 | 6 | |
| | | Raw Umber | € 3.50 | 3 | |
| | | Burnt Orange | € 3.50 | 1 | |
| | | Natural Oak | € 3.50 | 1 | |
| | | Black | € 3.50 | 6 | |
| | | Cool Grey 0 | € 3.50 | 2 | |
| | | Cool Grey 1 | € 3.50 | 1 | |
| | | Cool Grey 2 | € 3.50 | 2 | |
| | | Cool Grey 3 | € 3.50 | 2 | |
| | | Cool Grey 4 | € 3.50 | 1 | |
| | | Cool Grey 5 | € 3.50 | 1 | |
| | | Cool Grey 6 | € 3.50 | 4 | |
| | | Cool Grey 7 | € 3.50 | 2 | |
| | | Cool Grey 8 | € 3.50 | 3 | |
| | | Cool Grey 9 | € 3.50 | 2 | |
| | | Neutral Grey 0 | € 3.50 | 2 | |
| | | Neutral Grey 1 | € 3.50 | 4 | |
| | | Neutral Grey 2 | € 3.50 | 3 | |
| | | Neutral Grey 3 | € 3.50 | 3 | |
| | | Neutral Grey 4 | € 3.50 | 2 | |
| | | Neutral Grey 5 | € 3.50 | 6 | |
| | | Neutral Grey 6 | € 3.50 | 3 | |
| | | Neutral Grey 7 | € 3.50 | 3 | |
| | | Neutral Grey 8 | € 3.50 | 3 | |
| | | Neutral Grey 9 | € 3.50 | 7 | |
| | | Warm Grey 0 | € 3.50 | 2 | |
| | | Warm Grey 1 | € 3.50 | 4 | |
| | | Warm Grey 2 | € 3.50 | 4 | |
| | | Warm Grey 3 | € 3.50 | 3 | |
| | | Warm Grey 4 | € 3.50 | 2 | |
| | | Warm Grey 5 | € 3.50 | 6 | |
| | | Warm Grey 6 | € 3.50 | 4 | |
| | | Warm Grey 7 | € 3.50 | 4 | |
| | | Warm Grey 8 | € 3.50 | 3 | |
| | | Warm Grey 9 | € 3.50 | 2 | |
Show all colours
Hide colours
Free shipping above € 89,-

Returns within 30 days

Pay as you wish, in advance or afterwards