Spray.Bike Nightshade Collection 400ml Bicycle Paint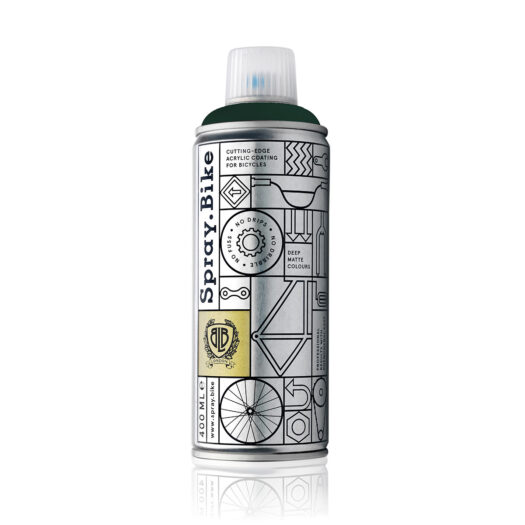 Spray.Bike Nightshade Collection 400ml Bicycle Paint
Spray.Bike is the first-ever range of cycling-specific color coating designed for both amateur and professional use.
Spray.Bike paint is a pigment-rich dry matte powder coating that does not drip in any way and is revolutionary in terms of ease of use and quality of finish. A 400ml spray can covers a bicycle frame and fork with a single coat. For steel, aluminum and even carbon parts.
The Nightshade Collection consists of a range of dark colors, inspired by the night.
Solid Color Technical Specifications
Highly pigmented acrylic paint
Dry drop powder coating
Non-drip, non-dribble formula
No primer required
Suitable for steel, aluminum and carbon (carbon) surfaces
Permanent and resilient: UV-resistant and weather-resistant
Deep, matte colors
Easy to handle for stenciling and blending effects, among other things
Requires no equipment or post-application heat treatment
For a satin or glossy top coat, finish with Spray.Bike Frame Builder's Transparent Finish – Satin / Gloss. For a matte top coat, finish with Frame Builder's Transparent Finish – Matte or regularly use Frame Builder's Top Wax.
400 ml and 200 ml options
1 x 400ml aerosol can coat a frame and fork in a single coat
Minimum recommended layers: one
Instructions for use
Make sure the surface is degreased, clean and dry
Wear protective gloves, protective clothing, eye/face protection
Always paint in an open space in the open air
Shake the can for at least 3 minutes before use
Test the spray for 2-3 seconds before application
Optimal temperature for spraying: 20-25°C. Do not use Spray.Bike if the temperature is below 10°C or above 35°C, or if the relative humidity is above 75%
Always spray with the can in a vertical position, otherwise the paint could 'spit' unevenly
Solid colours: spray surface at a distance of 5-12 cm
Pocket Clears, Frame Builder's Smoothing Putty, Frame Builder's Transparent Finish, Frame Builder's Cold-Zinc, Frame Builder's Metal Primer, Frame Builder's Carbon Primer, Frame Builder's Metal Plating: Spray the surface from a minimum distance of 20cm
Keirin Flake and Keirin Sunlight: spray the surface from a distance of at least 30 cm
Frame Builder's Top Wax: Spray on a paper towel or soft lint-free cloth and apply gently
Always keep your hand moving while spraying
Allow to dry before applying 2nd coat (paint dries within 10 minutes, full curing time: 2 hours)
At the end you can turn upside down and spray for 2 seconds before storing the aerosol (prevents future blockage)
Protect can from sunlight and temperatures above 50°C / 122°F
Read more
Product Specifications
| | |
| --- | --- |
| Spray.Bike Nightshade kleuren | Raven Grey | Elderberry | Moorland | Storm | Black Cherry | Peacock |
| SKUs | 48270 | 48272 | 48269 | 48267 | 48271 | 48268 |
Read more
Share your thoughts!
Let us know what you think...
View or write reviews