MTN PRO 400ml Magnetic chalkboard spray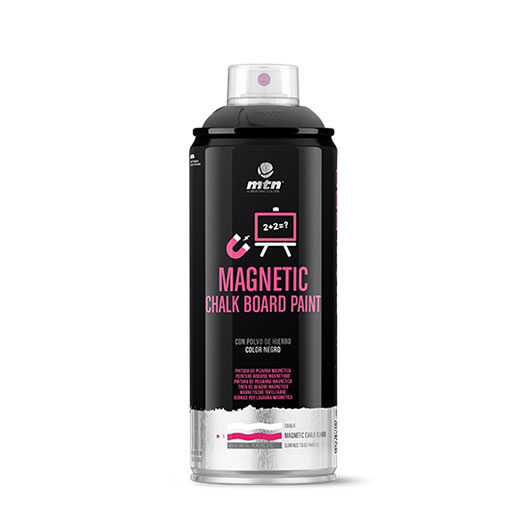 MTN PRO 400ml Magnetic chalkboard spray
Turn any surface into a magnetic chalkboard thanks to the special formula with magnetic powder.
MTN PRO Magnetic Chalkboard Paint is designed to turn any wall of a shop, restaurant or living room into a comfortable and charming chalkboard that you can temporarily capture with chalk or chalk markers and customize with your favorite magnets.
The magnetic chalkboard spray is a supercharged version of the "standard" Chalk Board Paint. By adding charged magnetic dust particles to the original chalkboard formula, Montana Colors produced a product that, when sprayed on, transforms any surface into a magnetic chalkboard. This feature allows magnets to be applied to the coated surface, making it even more interactive for the user!
Similar to the MTN Proline Chalkboard Paint, the Magnetic Chalkboard Paint is a water based formula, with a highly opaque matte black finish. However, to achieve maximum magnetic strength, we recommend superimposing at least five to seven layers.
Furthermore, because the magnetic powder tends to sink to the bottom, we recommend shaking the aerosol very well before use. If the aerosol is not shaken enough, the paint will come out thick and eventually clog the cap. Even after prolonged shaking, the aerosol can potentially clog during spraying. In that case, simply turn the aerosol upside down and depress the cap for about five seconds, shake the aerosol vigorously and then continue to spray.
Main Features of MTN PRO Magnetic Chalkboard Spray Paint
– Contains special magnetic powder formulas
– Sustainable
– Water based
– High coverage
– Dries quickly
– Once dry, it does not stain when touched
With 400ml you cover an area of ​​2 square meters on average.
Read more
Share your thoughts!
Let us know what you think...
View or write reviews