STABILO Aquacolor watercolor pencils set of 12 colors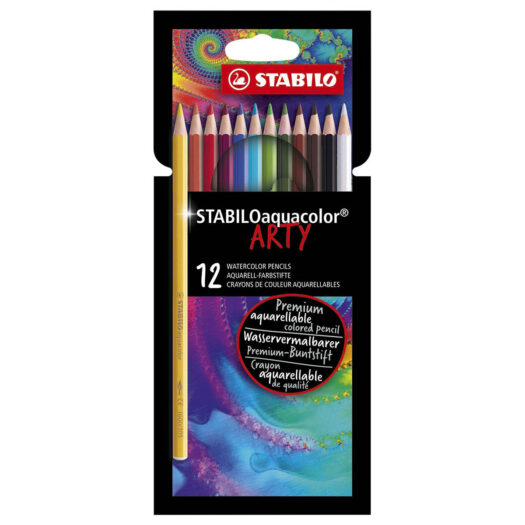 STABILO Aquacolor watercolor pencils set of 12 colors
Buy Stabilo pencils at Suitup! Let your creativity run wild with these beautiful watercolor pencils! Available in 36 beautiful water soluble colors, these pencils are ideal for school children, students, creatives and children of all ages. With these premium watercolor pencils, you can meet any creative challenge. You can use the pencils dry and wet to create amazing artwork and drawings. If you use them on dry paper, the colors can be mixed with water and a brush. If you use the pencils on wet paper, the colors will automatically blend together. The color can also be applied by brushing directly along the tip of the pencil with a wet brush and then applying the color to the paper. These watercolor pencils of very high quality, with a core of 2.8 mm and give off a lot of color.
The Stabilo Aquacolor pencils can be used both wet and dry. Create a beautiful watercolor effect by adding water. Draw with the pencils on paper and go over it with a brush with water or use the brush to remove pigment directly from the tip of the pencil. Use Stabilo Aquacolor at home, at school and at work. They are suitable for both children, and adults, for beginners, hobbyists and artists. The pencils have a filling of 2.8mm.
The set contains 12 colors.
Read more
Share your thoughts!
Let us know what you think...
View or write reviews