Speedball Linocut starter kit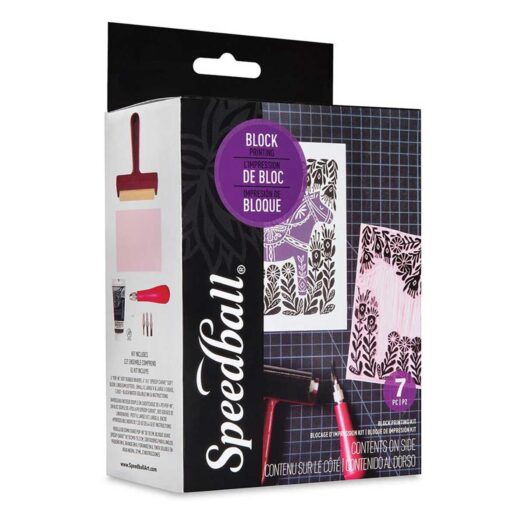 Speedball Linocut starter kit
Speedball Water-Soluble Block Printing Starter Kit: ideal for beginners who want to start with linocut!
Speedball is an American brand that, for 75 years now, offers everything related to printing techniques (linocut and screen printing): from loose printing ink to complete sets with materials to get started yourself. Where printing techniques used to be inaccessible due to the large amounts of special materials needed, Speedball has changed the whole market by offering these materials in an accessible way. Suitable for both hobbyists and professionals, everyone can now get started with these techniques themselves!
Do you want to start with linocut but don't have any materials at home yet? This kit from Speedball is a good start and contains the following materials:
Tube (37ml) water soluble block printing ink, in the color black
Soft lino roller with good grip
Holder for gouges
Gouges in three sizes
Speedy-Carve Block (soft, synthetic material instead of linoleum)
Linocut instruction booklet
With these materials you can get started right away with your first linocut. All basic materials are included in this kit, and you can expand later with more colors of ink or gouges in even more sizes.
The Speedy-Carve Block is made of extra soft, synthetic material, which makes gouging even easier than in linoleum. Linoleum can still be quite tough, and if you haven't quite mastered the technique of gouging yet, it's a bit more accessible (and safer!) to use this material in the beginning.
Properties
Ideal kit for beginners
All basic materials to start with linocut
Water based ink
Instruction booklet included
Read more
Share your thoughts!
Let us know what you think...
View or write reviews
Ideal kit for beginners
All basic materials to start with linocut
Water based ink
Instruction booklet included