Essdee Softcut Carving Blocks – 10 pieces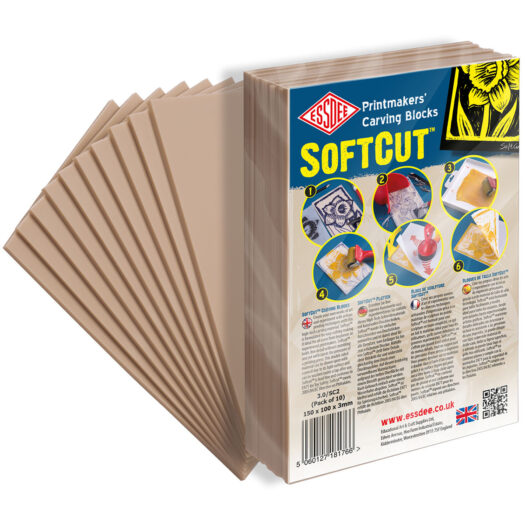 Essdee Softcut Carving Blocks – 10 pieces
Buy Essdee Softcut Carving Blocks at Suitup Art Supplies!
SoftCut is manufactured by Essdee as a great alternative to Lino. It is formulated to be very easy to carve, making the experience of block printing accessible to more people. One pack contains 10 printing plates. Available in a variety of sizes.
Lino Cutting
Linoleum cutting is a printing technique where you cut parts out of the linoleum, which should remain white when printed on paper. The cutting is done with a gouge knife. The parts that you want to be visible should be left whole, because this is where the ink (or paint) will be applied and this will be printed on the paper. It looks like a big stamp. When you are done with your lino art you can apply block ink or acrylic paint on the plate with a lino roller. Place a piece of paper on the plate and rub/roll the surface smooth with your hands or a roller. Gently pull the paper off from 1 corner. You can reuse the plate as many times as you like.
Caution! The image on the linoleum is printed in mirror image. So pay extra attention to this when making letters and numbers.
Read more
Product Specifications
| | |
| --- | --- |
| Afmetingen | 150 x 105mm | 210 x 150mm | 300 x 210mm |
| SKUs | 3.0/SC2 | 3.0/SC3 | 3.0/SC4 |
Read more
Share your thoughts!
Let us know what you think...
View or write reviews