Essdee Fine Quality Scraperboards White – 10 pieces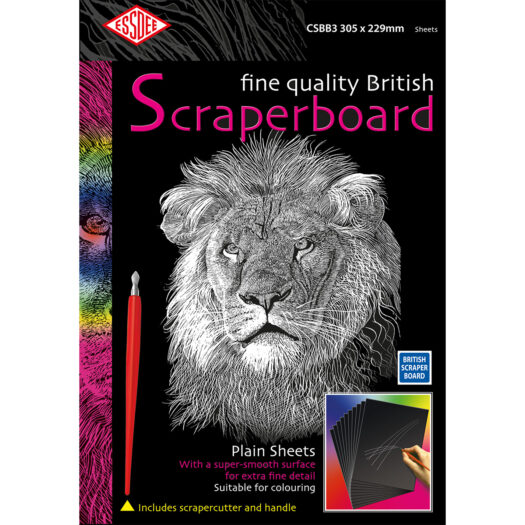 Essdee Fine Quality Scraperboards White – 10 pieces
Essdee Fine Quality Scraperboard is heavily coated with china clay, creating a smooth surface that is then overprinted with black ink. A sharp scraping tool is used to carve a line through the ink, revealing the white carpet pad. It is an artistic medium that is clear and precise. Its super-smooth surface is used by illustrators and professional artists around the world and allows for very detailed work. It can also be used extensively as an ideal airbrush medium. Engraving is as easy as drawing with a pencil, and with largely the same action. The board offers extreme contrast with dense black and pure white. Scraperboard can then be colored and manipulated into many interesting possibilities.
There is also white scraperboard, on which you apply ink to selected areas. This avoids the excessive removal of large black areas. The process is identical to that of black scraperboard. Use good quality waterproof ink and a sable hair brush to "block in" the main parts of the design and let it dry naturally. Using a clean piece of paper under hand to avoid unintentional marks is even more important when using white scraperboard. It is possible to use white scraperboard to carefully build an illustration with semi-transparent inks and then engrave in detail. White scraperboard is the best medium for airbrushing and is perfect for creating dramatic illustrative effects
Package includes 10 sheets of white scraperboard and a scraper tool.
Available in 3 sizes.
Read more
Product Specifications
| | |
| --- | --- |
| Afmetingen | 101 x 152mm | 152 x 229mm | 229 x 305mm |
| cz the hidden talent | aan |
| SKUs | CSBW1 | CSBW2 | CSBW3 |
Read more
Share your thoughts!
Let us know what you think...
View or write reviews