Tombow ABT PRO Alcohol Marker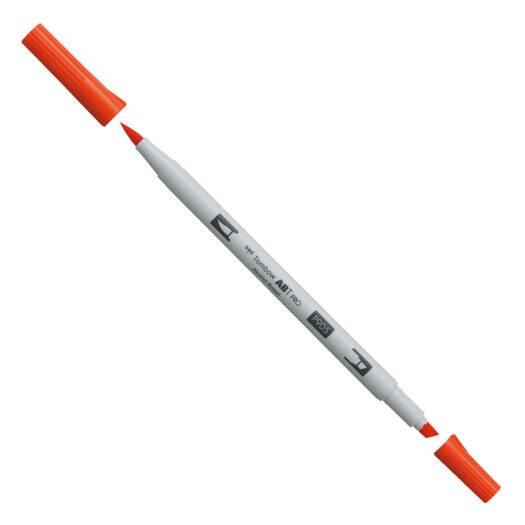 Tombow ABT PRO Alcohol Marker
The Tombow ABT Pro is Tombow ABT Dual Brush, but with alcohol-based ink. This marker has both a brush (brush) tip and a chisel (angled) tip, and is available in 107 colors and a blender.
The wide chisel tip allows you to perfectly apply colors over a large area, while the fine brush tip is ideal for details and accents. The brush tip made of nylon is particularly flexible and dynamic. After pressure is applied to the tip, it returns to its original shape. As a result, it is easy to control. The slim ferrule lies comfortably in the hand.
The color of the ABT PRO flows slowly and runs a little on the paper. This ink is therefore well controllable and allows for particularly precise work. The alcohol-based ink offers streak-free coverage with powerful color through repeated application. By applying layers of ink on top of each other, depth and shadow can be created and colors become more intense. The ABT PRO is suitable for illustrations, manga and comics, designs and sketches in fashion design, product development, architecture and the like. Available in 107 colors and a blender.
Tip: store the pens horizontally and make sure the cap seals well.
Features
Pen type: Double-sided marker with alcohol-based brush and chisel tip
Pen color: Different, see picture for color numbers
Ink color: Various, see picture for color numbers
Writing width: Fine and wide
Refillable: No
Read more
Share your thoughts!
Let us know what you think...
View or write reviews
35%

Discount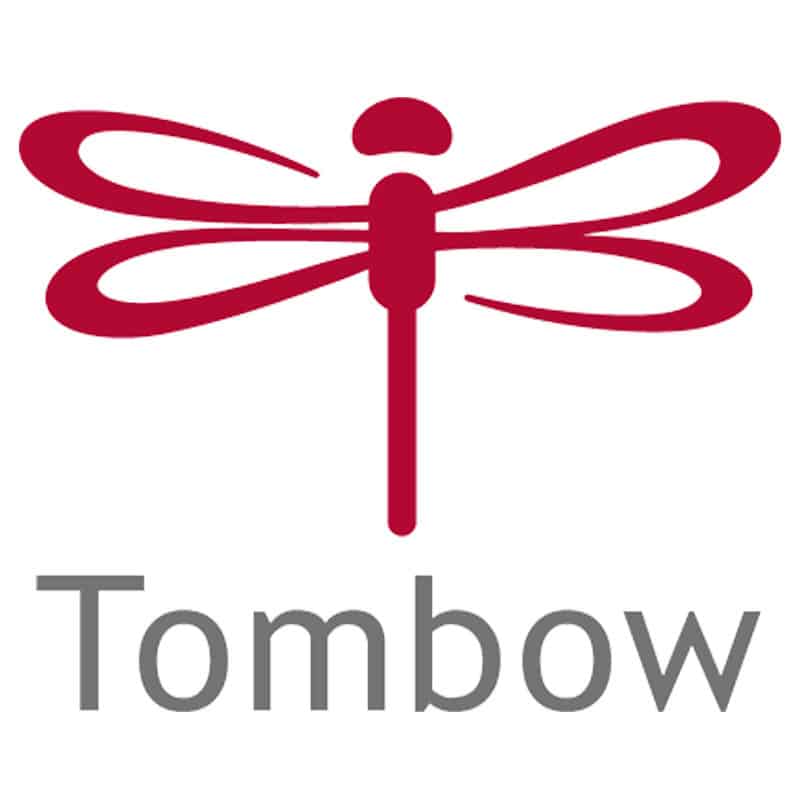 € 4.90

Available, shipped the same day
| | | | | | |
| --- | --- | --- | --- | --- | --- |
| | | Peach | € 4.90 | 5 | |
| | | Light Orange | € 4.90 | 4 | |
| | | Dark Ochre | € 4.90 | 6 | |
| | | Yellow Gold | € 4.90 | 5 | |
| | | Process Yellow | € 4.90 | 6 | |
| | | Pale Yellow | € 4.90 | 6 | |
| | | Green Ochre | € 4.90 | 6 | |
| | | Light Green | € 4.90 | 6 | |
| | | Lemon Cream | € 4.90 | 6 | |
| | | Artichoke | € 4.90 | 6 | |
| | | Antique Bronze | € 4.90 | 6 | |
| | | Light Olive | € 4.90 | 5 | |
| | | Lemon Lime | € 4.90 | 5 | |
| | | Chartreuse | € 4.90 | 5 | |
| | | Dark Olive | € 4.90 | 6 | |
| | | Willow Green | € 4.90 | 5 | |
| | | Dark Jade | € 4.90 | 6 | |
| | | Honeydew | € 4.90 | 6 | |
| | | Asparagus | € 4.90 | 5 | |
| | | Sap Green | € 4.90 | 2 | |
| | | Dark Green | € 4.90 | 6 | |
| | | Hunter Green | € 4.90 | 6 | |
| | | Sea Glass | € 4.90 | 6 | |
| | | Green | € 4.90 | 6 | |
| | | Jade Green | € 4.90 | 5 | |
| | | Holly Green | € 4.90 | 5 | |
| | | Bright Blue | € 4.90 | 4 | |
| | | Process Blue | € 4.90 | 6 | |
| | | Turquoise | € 4.90 | 4 | |
| | | Cyan | € 4.90 | 5 | |
| | | Sky Blue | € 4.90 | 6 | |
| | | Glacier Blue | € 4.90 | 6 | |
| | | Arctic Blue | € 4.90 | 5 | |
| | | Reflex Blue | € 4.90 | 6 | |
| | | Navy Blue | € 4.90 | 5 | |
| | | Cobalt Blue | € 4.90 | 3 | |
| | | Denim | € 4.90 | 6 | |
| | | Mist Purple | € 4.90 | 5 | |
| | | Ultramarine | € 4.90 | 6 | |
| | | Deep Blue | € 4.90 | 6 | |
| | | Jet Blue | € 4.90 | 6 | |
| | | Periwinkle | € 4.90 | 5 | |
| | | Sea Green | € 4.90 | 6 | |
| | | Sea Blue | € 4.90 | 4 | |
| | | Tiki Teal | € 4.90 | 5 | |
| | | Aqua | € 4.90 | 4 | |
| | | True Blue | € 4.90 | 6 | |
| | | Violet | € 4.90 | 5 | |
| | | Deep Lavender | € 4.90 | 5 | |
| | | Imperial Purple | € 4.90 | 6 | |
| | | Lavender Blush | € 4.90 | 5 | |
| | | Purple | € 4.90 | 5 | |
| | | Orchid | € 4.90 | 5 | |
| | | Dark Plum | € 4.90 | 6 | |
| | | Ice Pink | € 4.90 | 6 | |
| | | Thistle | € 4.90 | 6 | |
| | | Deep Magenta | € 4.90 | 6 | |
| | | Pink Rose | € 4.90 | 6 | |
| | | Pink | € 4.90 | 6 | |
| | | Hot Pink | € 4.90 | 6 | |
| | | Rubine Red | € 4.90 | 6 | |
| | | Port Red | € 4.90 | 6 | |
| | | Carnation | € 4.90 | 6 | |
| | | Dusty Rose | € 4.90 | 6 | |
| | | Pale Pink | € 4.90 | 6 | |
| | | Pink Punch | € 4.90 | 5 | |
| | | Cherry | € 4.90 | 5 | |
| | | Mauve | € 4.90 | 6 | |
| | | Wine Red | € 4.90 | 6 | |
| | | Espresso | € 4.90 | 6 | |
| | | Crimson | € 4.90 | 5 | |
| | | Carmine | € 4.90 | 6 | |
| | | Wineberry | € 4.90 | 6 | |
| | | Bronze | € 4.90 | 6 | |
| | | Rose Quartz | € 4.90 | 6 | |
| | | Poppy Red | € 4.90 | 5 | |
| | | Coral | € 4.90 | 4 | |
| | | Brown | € 4.90 | 6 | |
| | | Starfish | € 4.90 | 6 | |
| | | Red | € 4.90 | 4 | |
| | | Spice | € 4.90 | 5 | |
| | | Opal | € 4.90 | 6 | |
| | | Pale Cherry | € 4.90 | 6 | |
| | | Scarlet | € 4.90 | 5 | |
| | | Orange | € 4.90 | 5 | |
| | | Cappuccino | € 4.90 | 5 | |
| | | Burnt Sienna | € 4.90 | 5 | |
| | | Chocolate | € 4.90 | 5 | |
| | | Saddle Brown | € 4.90 | 5 | |
| | | Chrome Yellow | € 4.90 | 4 | |
| | | Light Ochre | € 4.90 | 5 | |
| | | Chrome Orange | € 4.90 | 6 | |
| | | Sand | € 4.90 | 5 | |
| | | Black | € 4.90 | 5 | |
| | | Lamp Black | € 4.90 | 6 | |
| | | Warm Gray 13 | € 4.90 | 5 | |
| | | Cool Gray 12 | € 4.90 | 6 | |
| | | Cool Gray 10 | € 4.90 | 5 | |
| | | Warm Gray 8 | € 4.90 | 5 | |
| | | Cool Gray 7 | € 4.90 | 6 | |
| | | Cool Gray 5 | € 4.90 | 6 | |
| | | Cool Gray 3 | € 4.90 | 6 | |
| | | Warm Gray 4 | € 4.90 | 5 | |
| | | Warm Gray 2 | € 4.90 | 5 | |
| | | Warm Gray 1 | € 4.90 | 5 | |
| | | Light Apricot | € 4.90 | 5 | |
| | | Cool Gray 1 | € 4.90 | 6 | |
| | | Colorless Blender | € 4.90 | 4 | |
Show all colours
Hide colours
Free shipping above € 89,-

Returns within 30 days

Pay as you wish, in advance or afterwards