Derwent Sketching 48 Pencils in wooden box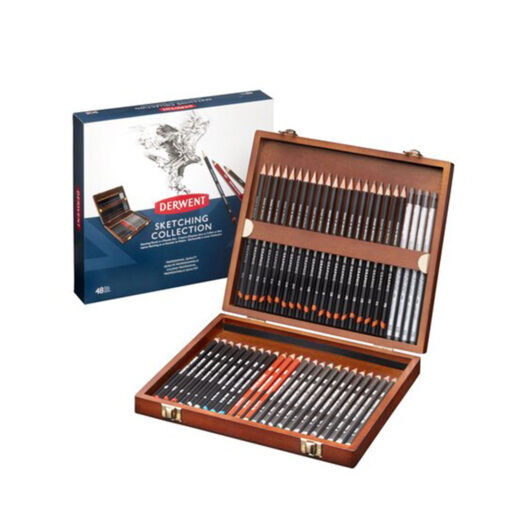 Derwent Sketching 48 Pencils in wooden box
The Sketching Collections has everything you need to enjoy sketching and drawing. This set comes with a beautiful wooden box, including 4 Watersoluble Graphitone Sticks, 20 Graphic Pencils, 3 Sketching Pencils, 3 Watersoluble Sketching Pencils, 12 Graphitint Pencils, 3 Drawing Pencils & 3 Charcoal Pencils.
For sketching, this set has 3 simple degrees HB, 2B & 4B, to meet all your sketching needs. They have a wide strip so you can quickly create a loose sketch. Once you've done that, you can sharpen your pencil to a fine point to add all the important details! Supplied in a nice wooden box with: 4 water-soluble Graphitone sticks (6B, 4B, 2B and 8B), 20 graphic pencils (9B, 8B, 7B, 6B, 5B, 4B, 3B, 2B, B, HB, F , H, 2H, 3H, 4H, 5H, 6H, 7H, 8H and 9H), 3 sketch pencils (4B, 2B and HB), 3 water-soluble sketch pencils (4B, HB and 8B), 12 Graphitint pencils (Port, Eggplant, Dark Indigo, Slate Green, Ivy, Chestnut, Cool Brown, Cocoa, Storm, Midnight Black, Cloud Gray and Cool Gray), 3 Drawing Pencils (Sepia Red, Sanguine and Chinese White), 3 Charcoal Pencils (Light, Medium and Dark ).
Read more
Share your thoughts!
Let us know what you think...
View or write reviews