Liquitex Pro Pouring Medium for acrylic paints – Gloss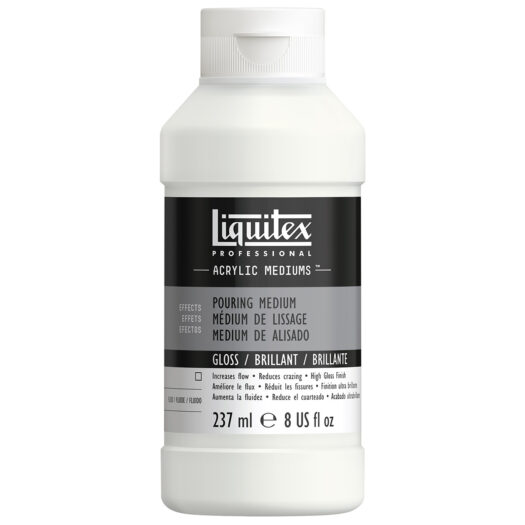 Liquitex Pro Pouring Medium for acrylic paints – Gloss
You can buy Liquitex pouring medium for acrylic paint at Suitup Art Supplies!
Acrylic Pouring is a very fun way to create unique art with acrylic paint. You use the pouring medium to thin the acrylic paint so it becomes liquid and you can pour it onto the surface. Read here how to do it exactly and what you need. The Liquitex Pro Pouring Medium dries to a high gloss finish and gives a smooth surface, without cracks or bubbles.
How to use.
– Fully miscible with all Liquitex products
– For best casting results, start with a tablespoon of Soft Body paint and a cup of pouring medium (about 5% paint to 95% medium) and adjust to your own technique
– To use with Acrylic Ink or Heavy Body Acrylic, adjust the ratio to get the desired consistency
– Stir gently to prevent foaming – if bubbles form, let it stand for a while so the bubbles rise and disappear
– Use as a regular liquid medium extender – mix as much as you want with acrylic paint to get the volume and viscosity you want
– Cracks and fissures can occur if the yield strength is very uneven, so make sure the surface is level while drying
– To achieve a matte finish, a final coat of Matte spray varnish when the acrylic pour has dried will give a smoother result than using a matte paint or medium
How NOT to use
– Do not shake or stir vigorously, as this may affect the smooth appearance after drying
– Do not use with non-acrylic media
Read more
Share your thoughts!
Let us know what you think...
View or write reviews