Liquitex Pro Acrylic Varnish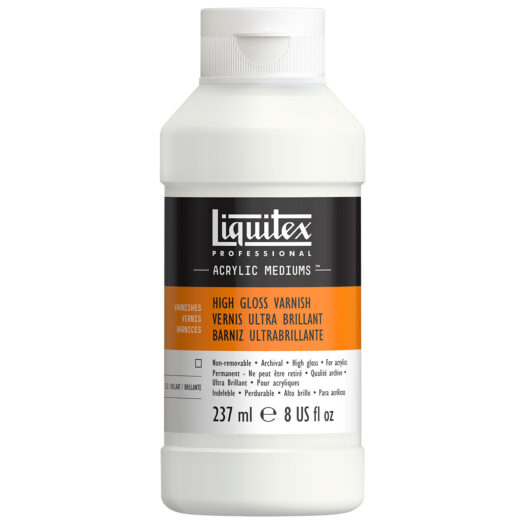 Liquitex Pro Acrylic Varnish
Buy Liquitex Pro acrylic varnish at Suitup Art Supplies!
Protect your work from dirt, dust and UV damage with the Liquitex Pro Acrylic Varnish. The 100% acrylic polymer varnish dries transparent to a flexible, non-sticky, hard surface. It evens out surface gloss and increases clarity and color saturation. Protects against discoloration, yellowing and haze caused by humidity, heat and UV. It allows easy cleaning without damaging the acrylic paint. Contains 237 ml.
100% acrylic polymer
Contains 237 ml
Transparent when dry
Equalizes, protects and is dirt repellent
Use on flexible or rigid supports
Designed for interior and exterior use
Available with high gloss, satin and matte finish
How to use
– Since this is a permanent product, you should test first
– Make sure the paint surface is completely dry before varnishing (72 hours – two weeks, depending on thickness)
– Make sure the area is well ventilated and free of dirt and dust
– Lay the artwork flat on a surface – always varnish horizontally
– Stir carefully before use
– Use long, even strokes and varnish the surface from top to bottom while moving from side to side – do not go over pieces you have missed, but let them dry and varnish the surface again
– Watch for air bubbles in the surface during application and level them immediately
– Apply up to three thin coats, with at least three hours drying time between coats
How NOT to use
– Do not shake or go over a piece too often, this can lead to bubbles in the surface and a foggy, blurry effect after drying
– Do not apply with a roller or sponge brush
– Do not dilute with water
– Do not apply in one thick layer, but in several thin layers, to avoid brush marks, drips and cloudiness
– Do not go back over areas already applied, as this can cause cloudiness
– Do not attempt to remove once applied
– Do not use with non-acrylic products
Read more
Share your thoughts!
Let us know what you think...
View or write reviews