Derwent Techniques Brushes Set – 6 pcs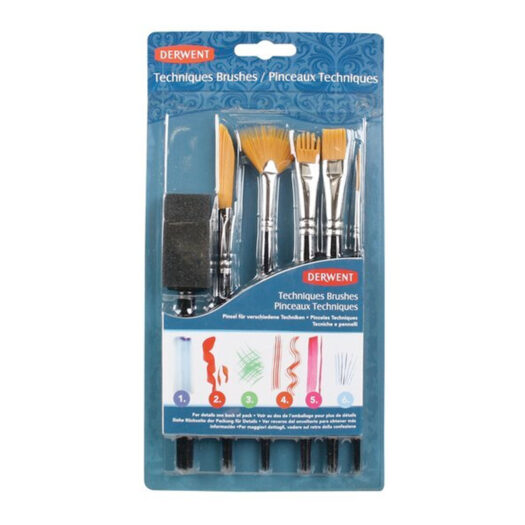 Derwent Techniques Brushes Set – 6 pcs
This set of 6 brushes contains a specially selected range of brushes for different painting techniques. Each brush in this set has been developed to produce different markings, giving the artist more creative possibilities.
Content
– The foam brush is perfect for laying a wash over a large area or background.
– The sword liner is a beautiful brush for creating smooth markings and lets the artist slide between fine lines and teardrop shapes, ideal for petals and leaves.
– The fan brush splits into fine tips into wet tips, which can be used to create delicate spots such as hair and leaves.
– The flat brush is ideal for wider strokes and fine lines and has a high color-carrying capacity for quick and easy color capture.
– The comb brush is a close relative of the fan brush and is used wherever you want fine separated lines. Ideal for grasses and coat, it is also used for adding texture and hatching.
– The rigger brush is the perfect brush to add details. The rigger produces fine lines with a consistent width and is ideal for delicate lines and intricate work.
Read more
Product Specifications
| | |
| --- | --- |
| cz the painter | aan |
| SKU | DWB2302003 |
| GTIN/EAN | 5028252357128 |
Read more
Share your thoughts!
Let us know what you think...
View or write reviews