Van Gogh oil & acrylic brush set of 3 – Series 234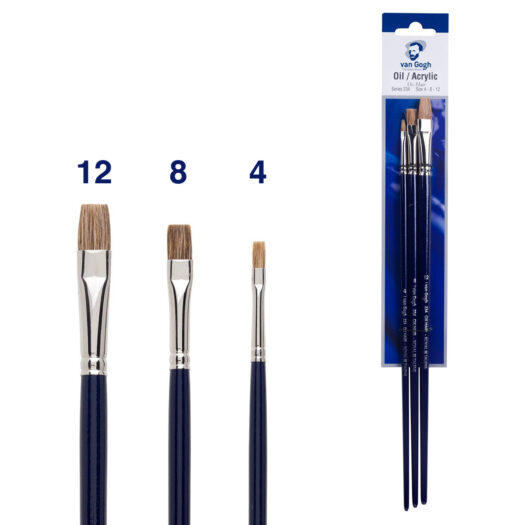 The Van Gogh oil and acrylic paint brushes, produced with care and craftsmanship, are available in various shapes, sizes and hair types. The brushes with natural hair feel extra firm, while the synthetic versions have flexible hairs. Use these brushes with thicker paint to apply texture, paint in layers and mix colors and you will be amazed at the results.
This carefully crafted and hand-shaped brush for oil and acrylic paints has a flexible hair bundle that resists wear. This set of ox hair brushes holds large amounts of color and is great for spreading large amounts of paint across the canvas. The brushes have a flat (Gussow) hair bundle for creating sharp edges and straight lines.
The width of the hair bundles on the included brushes are 4.5mm, 7.9mm and 11.1mm
Read more
Share your thoughts!
Let us know what you think...
View or write reviews