Angelus leather paint – 118 ml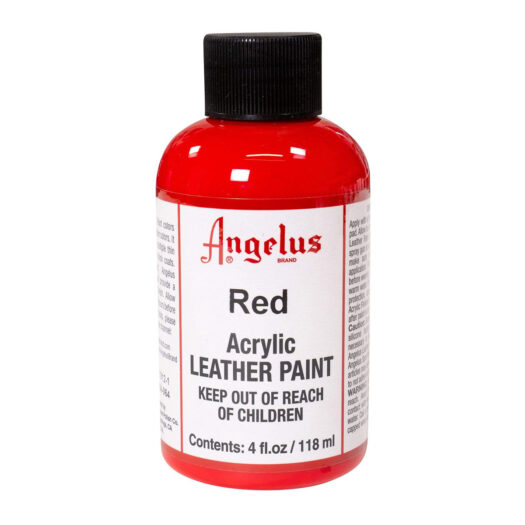 The Angelus acrylic paint is specially designed for dyeing leather fabrics. Use the leather paint to dye leather jackets, boots, furniture and more! The paint is water resistant and will not crack or peel off.
Acrylic base
118 ml
Available in 80 colours
Safety Data Sheet:
720 Leather Paint
Read more
Share your thoughts!
Let us know what you think...
View or write reviews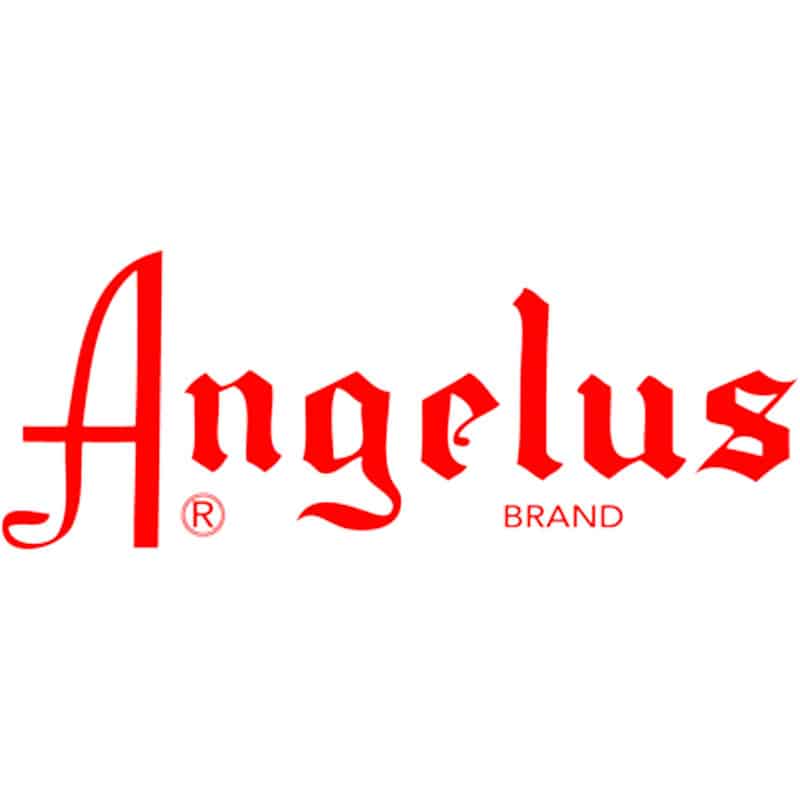 Acrylic base
118 ml
Available in 80 colours
€ 12.50
Available, shipped the same day
| | | | | | |
| --- | --- | --- | --- | --- | --- |
| | | Rich Brown | € 12.50 | 1 | |
| | | Sand | € 12.50 | 1 | |
| | | Terracotta | € 12.50 | 1 | |
| | | Autumn Red | € 12.50 | 1 | |
| | | Hot Pink | € 12.50 | 1 | |
| | | Pink | € 12.50 | 1 | |
| | | Petal Pink | € 12.50 | 2 | |
| | | Scarlet Red | € 12.50 | 2 | |
| | | Shell Pink | € 12.50 | 1 | |
| | | Caramel | € 12.50 | 1 | |
| | | Mustard | € 12.50 | 2 | |
| | | Pale Yellow | € 12.50 | 2 | |
| | | South Beach | € 12.50 | 2 | |
| | | Play In The Sand | € 12.50 | 1 | |
| | | Grinch Green | € 12.50 | 1 | |
| | | Tangerine | € 12.50 | 3 | |
| | | Salmon | € 12.50 | 2 | |
| | | Raspberry | € 12.50 | 2 | |
| | | Mint | € 12.50 | 1 | |
| | | Olive | € 12.50 | 1 | |
| | | Bowler | € 12.50 | 1 | |
| | | Light Brown | € 12.50 | 2 | |
| | | Tan | € 12.50 | 4 | |
| | | Blue Turquoise | € 12.50 | 4 | |
| | | Purple | € 12.50 | 1 | |
| | | Green | € 12.50 | 1 | |
| | | Midnight Green | € 12.50 | 1 | |
| | | Burgundy | € 12.50 | 2 | |
| | | Beige | € 12.50 | 4 | |
| | | Grey | € 12.50 | 2 | |
| | | Light Grey | € 12.50 | 1 | |
| | | Brick | € 12.50 | 1 | |
| | | Dark Bone | € 12.50 | 2 | |
| | | Vanilla | € 12.50 | 1 | |
| | | Natural Paint | € 12.50 | 2 | |
| | | Taupe | € 12.50 | 2 | |
| | | Light Green | € 12.50 | 1 | |
| | | Pale Blue | € 12.50 | 1 | |
| | | Sapphire | € 12.50 | 2 | |
| | | Violet | € 12.50 | 1 | |
| | | Dark Blue | € 12.50 | 1 | |
| | | Cognac | € 12.50 | 4 | |
| | | Fire Red | € 12.50 | 1 | |
| | | Magenta | € 12.50 | 2 | |
| | | Chili Red | € 12.50 | 2 | |
| | | Putty | € 12.50 | 1 | |
| | | Georgia Peach | € 12.50 | 2 | |
| | | Vachetta | € 12.50 | 1 | |
| | | Black | € 12.50 | 2 | |
| | | Neutral | € 12.50 | 2 | |
| | | White | € 12.50 | 1 | |
| | | Chocolate | € 12.50 | 1 | |
| | | Dark Brown | € 12.50 | 1 | |
| | | English Tan | € 12.50 | 1 | |
| | | Orange | € 12.50 | 2 | |
| | | Saddle | € 12.50 | 2 | |
| | | Blue | € 12.50 | 1 | |
| | | Light Blue | € 12.50 | 1 | |
| | | Navy Blue | € 12.50 | 1 | |
| | | Turquoise | € 12.50 | 1 | |
| | | Red | € 12.50 | 1 | |
| | | Dark Grey | € 12.50 | 3 | |
| | | Bone | € 12.50 | 1 | |
| | | Champagne | € 12.50 | 2 | |
| | | Mist | € 12.50 | 1 | |
| | | Cream | € 12.50 | 3 | |
| | | Capezio Tan | € 12.50 | 2 | |
| | | Beige Taupe | € 12.50 | 2 | |
| | | Grey Taupe | € 12.50 | 3 | |
| | | Dark Taupe | € 12.50 | 3 | |
| | | Mauve | € 12.50 | 1 | |
| | | Avocado Green | € 12.50 | 1 | |
| | | Dark Green | € 12.50 | 1 | |
| | | Gift Box Blue | € 12.50 | 1 | |
| | | Lilac | € 12.50 | 1 | |
| | | Brown | € 12.50 | 3 | |
| | | Buttercup | € 12.50 | 2 | |
| | | Yellow | € 12.50 | 5 | |
Show all colours
Hide colours
Free shipping above € 89,-

Returns within 30 days

Pay as you wish, in advance or afterwards