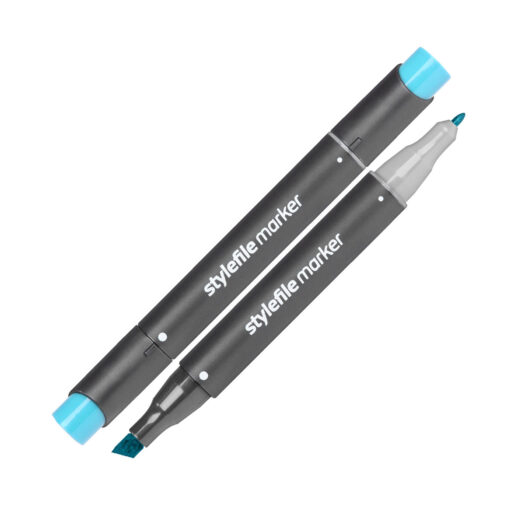 Stylefile Twin Marker
Style file Twin Marker
The Stylefile Twin marker is a marker that stands out for its unique design and performance. The 124 coordinated colors are available individually or in sets. The marker is equipped with a fine point on one side and a chisel point on the other side.
The Stylefile Marker has succeeded in conquering desks and sketchbooks all over the world in no time!
If you want an alcohol marker that delivers good results without costing too much money, you've come to the right place with the Stylefile Marker. Because this marker is not only in demand in the graffiti and art world, but also in the field of architecture, design and illustration, many years of development and research have gone into this marker to release this Stylefile Marker in a finely tuned palette of 124 brilliant colours, which provide brilliant colors and shades.
Here you will find the Stylefile Marker per piece, for creating your own set or to fill up your sets.
Characteristics
– Ink specially developed for us
– Strong tips from the market leader
– Marked keg and fineliner tip
– Color marking on the cap
– Simple, ergonomic design
Read more
Share your thoughts!
Let us know what you think...
View or write reviews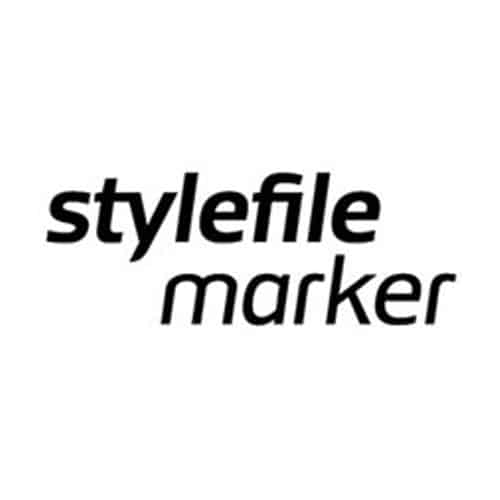 € 2.75
Available, shipped the same day
| | | | | | |
| --- | --- | --- | --- | --- | --- |
| | | Colorless Blender | € 2.75 | 2 | |
| | | Cream | € 2.75 | 3 | |
| | | Brown Grey | € 2.75 | 2 | |
| | | Barium Yellow | € 2.75 | 1 | |
| | | Canaria Yellow | € 2.75 | 3 | |
| | | Pastel Yellow | € 2.75 | 2 | |
| | | Yellow | € 2.75 | 4 | |
| | | Olive Yellow | € 2.75 | 1 | |
| | | Dark Yellow | € 2.75 | 2 | |
| | | Lemon Yellow | € 2.75 | 1 | |
| | | Melon Yellow | € 2.75 | 1 | |
| | | Sunflower | € 2.75 | 2 | |
| | | Deep Yellow | € 2.75 | 3 | |
| | | Marigold | € 2.75 | 2 | |
| | | Salmon Pink | € 2.75 | 5 | |
| | | Rose Beige | € 2.75 | 2 | |
| | | Potato Brown | € 2.75 | 3 | |
| | | Terra Cotta | € 2.75 | 3 | |
| | | French Vermilion | € 2.75 | 1 | |
| | | Orange | € 2.75 | 1 | |
| | | Barely Beige | € 2.75 | 3 | |
| | | Pastel Peach | € 2.75 | 1 | |
| | | Powder Pink | € 2.75 | 3 | |
| | | Fruit Pink | € 2.75 | 4 | |
| | | Pale Pink | € 2.75 | 1 | |
| | | Pastel Rose | € 2.75 | 1 | |
| | | Coral Pink | € 2.75 | 3 | |
| | | Scarlet | € 2.75 | 3 | |
| | | Vivid Red | € 2.75 | 3 | |
| | | Cherry Pink | € 2.75 | 1 | |
| | | Coral Red | € 2.75 | 6 | |
| | | Vermilion | € 2.75 | 3 | |
| | | Carmine | € 2.75 | 3 | |
| | | Deep Red | € 2.75 | 3 | |
| | | Rose Red | € 2.75 | 2 | |
| | | Geranium | € 2.75 | 3 | |
| | | Old Red | € 2.75 | 1 | |
| | | Wine Red | € 2.75 | 3 | |
| | | Dark Violet Light | € 2.75 | 2 | |
| | | Pale Blue Violet | € 2.75 | 1 | |
| | | Pastel Pink | € 2.75 | 2 | |
| | | Pastel Violet | € 2.75 | 5 | |
| | | Lavender | € 2.75 | 5 | |
| | | Pale Purple | € 2.75 | 3 | |
| | | Rose Pink | € 2.75 | 6 | |
| | | Cerise | € 2.75 | 1 | |
| | | Vivid Pink | € 2.75 | 4 | |
| | | Vivid Reddish Pink | € 2.75 | 7 | |
| | | Azalea Purple | € 2.75 | 1 | |
| | | Vivid Purple | € 2.75 | 2 | |
| | | Light Violet | € 2.75 | 3 | |
| | | Deep Violet | € 2.75 | 5 | |
| | | Sky Blue | € 2.75 | 3 | |
| | | Marine Blue | € 2.75 | 3 | |
| | | Pastel Blue | € 2.75 | 2 | |
| | | Baby Blue | € 2.75 | 2 | |
| | | Cerulean Blue | € 2.75 | 1 | |
| | | Prussian Blue | € 2.75 | 4 | |
| | | Cobalt Blue | € 2.75 | 1 | |
| | | Brilliant Blue | € 2.75 | 1 | |
| | | Napoleon Blue | € 2.75 | 4 | |
| | | Ultramarine | € 2.75 | 1 | |
| | | Royal Blue | € 2.75 | 5 | |
| | | Indian Blue | € 2.75 | 2 | |
| | | Ice Blue | € 2.75 | 1 | |
| | | Turquoise Blue | € 2.75 | 3 | |
| | | Dark Green | € 2.75 | 2 | |
| | | Turquoise Green Light | € 2.75 | 2 | |
| | | Mint Green Light | € 2.75 | 3 | |
| | | Peacock Green | € 2.75 | 4 | |
| | | Deep Olive Green | € 2.75 | 1 | |
| | | Mint Green | € 2.75 | 4 | |
| | | Emerald Green | € 2.75 | 1 | |
| | | Viridian | € 2.75 | 4 | |
| | | Turquoise Green | € 2.75 | 6 | |
| | | Deep Green | € 2.75 | 2 | |
| | | Yellow Green | € 2.75 | 3 | |
| | | Bronze Green | € 2.75 | 1 | |
| | | Pale Green | € 2.75 | 3 | |
| | | Grass Green | € 2.75 | 1 | |
| | | Burnt Sienna | € 2.75 | 2 | |
| | | Bronze | € 2.75 | 2 | |
| | | Chocolate | € 2.75 | 5 | |
| | | Chestnut Brown | € 2.75 | 2 | |
| | | Brick Brown | € 2.75 | 3 | |
| | | Raw Umber | € 2.75 | 1 | |
| | | Burnt Orange | € 2.75 | 8 | |
| | | Natural Oak | € 2.75 | 3 | |
| | | Cool Grey 0 | € 2.75 | 1 | |
| | | Cool Grey 1 | € 2.75 | 4 | |
| | | Cool Grey 2 | € 2.75 | 1 | |
| | | Cool Grey 3 | € 2.75 | 3 | |
| | | Cool Grey 4 | € 2.75 | 3 | |
| | | Cool Grey 5 | € 2.75 | 3 | |
| | | Cool Grey 6 | € 2.75 | 1 | |
| | | Cool Grey 7 | € 2.75 | 4 | |
| | | Cool Grey 8 | € 2.75 | 2 | |
| | | Cool Grey 9 | € 2.75 | 1 | |
| | | Neutral Grey 0 | € 2.75 | 2 | |
| | | Neutral Grey 1 | € 2.75 | 1 | |
| | | Neutral Grey 2 | € 2.75 | 3 | |
| | | Neutral Grey 3 | € 2.75 | 5 | |
| | | Neutral Grey 4 | € 2.75 | 6 | |
| | | Neutral Grey 5 | € 2.75 | 2 | |
| | | Neutral Grey 6 | € 2.75 | 2 | |
| | | Neutral Grey 7 | € 2.75 | 1 | |
| | | Neutral Grey 8 | € 2.75 | 2 | |
| | | Neutral Grey 9 | € 2.75 | 5 | |
| | | Warm Grey 0 | € 2.75 | 2 | |
| | | Warm Grey 1 | € 2.75 | 2 | |
| | | Warm Grey 2 | € 2.75 | 3 | |
| | | Warm Grey 3 | € 2.75 | 3 | |
| | | Warm Grey 4 | € 2.75 | 2 | |
| | | Warm Grey 5 | € 2.75 | 3 | |
| | | Warm Grey 6 | € 2.75 | 1 | |
| | | Warm Grey 7 | € 2.75 | 2 | |
| | | Warm Grey 8 | € 2.75 | 3 | |
| | | Warm Grey 9 | € 2.75 | 2 | |
Show all colours
Hide colours
Free shipping above € 89,-

Returns within 30 days

Pay as you wish, in advance or afterwards