Posca Keychain Shrink Wrap DIY Set – Boys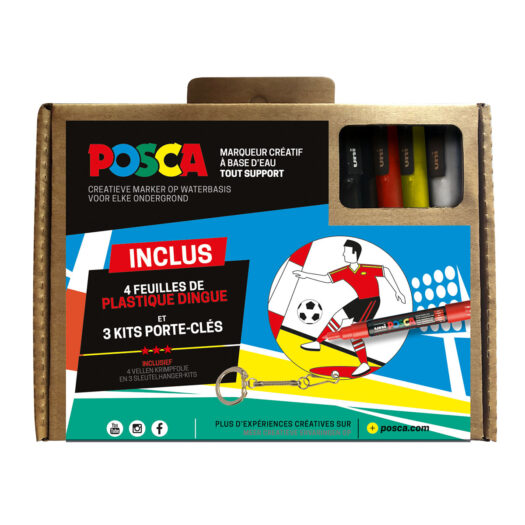 Posca Keychain Shrink Wrap DIY Set – Boys
With this Posca Keychain Shrink Wrap DIY set you can make your own keychains! The shape is cut from shrink film and you color with the Posca markers. Then place the shrink film in a regular household oven at 160°C and then take out your key ring!
The Uni-Posca Acrylic Markers are a great product for artists and hobbyists. We carry all available colors and thicknesses in our extensive range.
Tips for using the Uni-Posca Markers. Shake your Uni-Posca Acrylic Marker well with the cap on to circulate the pellet. Then press the tip several times on a sheet of paper, so that it gets soaked with paint. The function of the bullet is to mix the ingredients during use, which gives the work a homogeneous texture. Uni Posca acrylic markers are opaque, dry quickly and are waterproof. The colors can be mixed while the paint is still wet, and effortlessly repainted once dry. All Posca points are washable and some are reversible or replaceable. The Uni Posca
These markers are suitable for many different surfaces and have been tested on several others:
– Textile
– Wood
– Glass
– Plastic materials
– Minerals
– Ceramic
– Porcelain
– Metals
Read more
Share your thoughts!
Let us know what you think...
View or write reviews