Spray.Bike Sportpens Permanent Paint Marker – Matt finish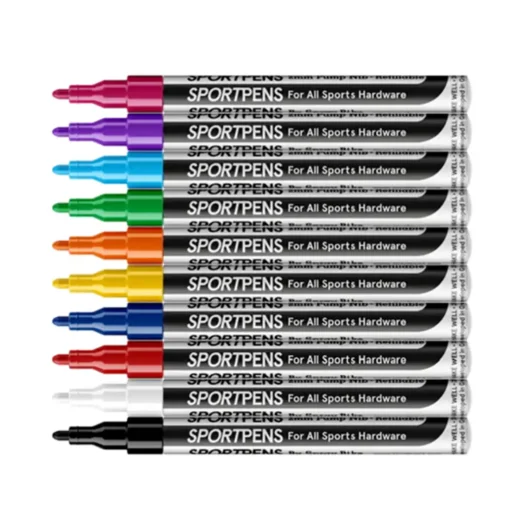 SportPens are a range of highly pigmented paint pens specially designed for use on firm, non-porous surfaces.The detachable nib of 2 mm strong nylon has a rounded tip, creating a perfectly even line on the straight or curved surface.
The paint is formulated to provide high opacity, strength, elasticity and water resistance for shaped solid objects, making it perfect for sports fittings.
SportPens has been developed by the experts at Spray.Bike.
highly pigmented matt acrylic paint
permanent
for solid, non-porous surfaces
high opacity
anti-scratch
anti-abrasion
high elasticity
water- and weather-resistant
odourless, safe, can be used indoors
Examples:
Great for: bicycle frames, scooters, saddles, inline skates, helmets, Frisbees, rackets, bats, footballs, knee/shoulder pads, plastic, leather, vinyl.
Do not use on: cotton, absorbent fabrics, T-shirts, baseball caps
To use
The paint is in the barrel of the pen – it must be drawn into the nib.
The nib has a pumping action, so by gently pressing the nib onto a hard surface, it retracts and the nib becomes saturated with the paint.
Initially, this may cause a small smudge or blob of paint, so don't activate the pen on the actual surface you will be drawing on. Do it on a piece of cardboard or other disposable surface.
Top Tip! Always activate the pen on a piece of scrap paper/cardboard or other disposable surface.
Once the nib is saturated, you can start creating your artwork. If the paint seems to be getting dry, press the nib again to saturate it again.
Note: The nylon nib is sturdy, but do not hit it to remove the paint from the barrel as it will deform and draw unevenly.
Always keep the cap of the pen on the pen when not in use, otherwise the paint will dry up, causing the nib to harden and making it less fluid and more scratchy the next time.
Be careful! Do not use diluting alcohols, petrol, white spirit and acetone with SportPens, as the chemicals break down our acrylic formula. Be careful when using sunscreen and cleaning products, as they often contain these chemicals.
SportPens paint dries in about 20 minutes, but we recommend handling the paint with confidence after about 2 hours, with a full cure, which guarantees its anti-scratch and water-resistant properties, after about 12 hours.
Drying time: about 20 minutes
Smooth application: about 2 hours
Full cure: about 12 hours
Read more
Product Specifications
| | |
| --- | --- |
| Sportpen colours | Black | White | Red | Blue | Yellow | Orange | Green | Light Blue | Purple | Pink |
| SKUs | 648001 | 648002 | 648003 | 648004 | 648005 | 648006 | 648007 | 648008 | 648009 | 648010 |
Read more
Share your thoughts!
Let us know what you think...
View or write reviews