Christmas Window Decoration Kit – 6 stencils + 1 snow spray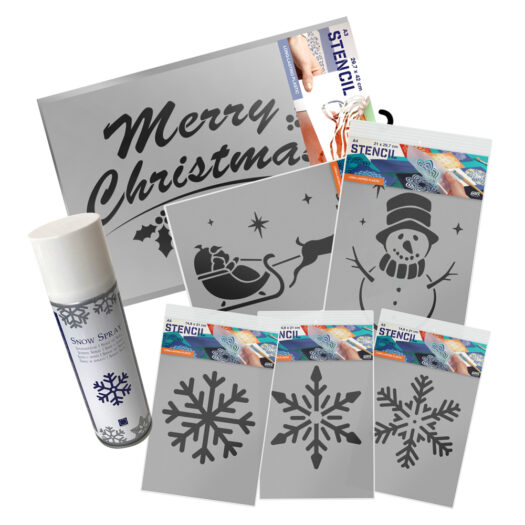 Christmas Window Decoration Kit – 6 stencils + 1 snow spray
With this Christmas window decoration package you will bring the Christmas mood into your home.
This package contains 6 Christmas stencils in 3 different sizes. 3 snowflakes on an A5 size stencil, 1 santa claus on the sleigh and 1 snowman on an A4 size stencil and 1 Merry Christmas on an A3 size stencil.
This package includes 1 spray can of snow spray!
The stencils are cut from mylar plastic and can therefore be cleaned and used again every year.
The stencil sizes are as follows:
– The Merry Christmas A3 stencil (42 x 29.7cm) has a 37cm wide cutout
– The Father Christmas with reindeer A4 stencil (21 x 29.7cm) has a 26 cm wide section
– The Snowman A4 template (21 x 29,7cm) has a cutout of 17cm wide
– The snowflake A5 stencil (21 x 14,8cm) has a flake diameter of 12,7cm
How does it work?
1. Clean the surface to which you want to apply your stencil.
2. Place the stencil exactly where you want it and secure it with masking tape.
3. Cover the area outside the Stencil if necessary – you don't want to get paint where you don't want it!
4. Apply the paint.
5. Carefully lift the stencil straight up off your surface.
Tip: Make sure the stencil is completely dry before you put it back in its packaging!
Read more
Share your thoughts!
Let us know what you think...
View or write reviews