Essdee Block Printing Ink Lino paint – 100ml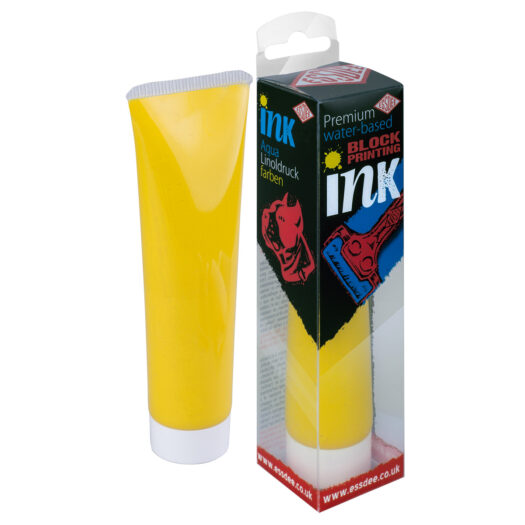 Essdee Block Printing Ink Lino paint – 100ml
Essdee premium block printing ink is a high quality water-based ink made with specialized ingredients for smooth, vibrant prints. This non-permanent ink has a perfectly balanced working and drying time making it easy to use and easy to clean up. Designed for use with Essdee Linoleum, SoftCut, MasterCut and Printfoam, but can also be used with many other printing materials and techniques. Essdee premium block printing ink prints well on all types of paper and board, and can be mixed to create a full palette of colors, shades and tones. Available in convenient 100 ml tubes.
Linocut
Lino cutting is a printing technique where you cut parts out of the linoleum, which should remain white when printed on paper. The cutting is done with a gouge knife. The parts that you want to be visible should be left whole, because this is where the ink will be applied and this will be printed on the paper. It looks like a big stamp. When you have finished your lino art you can apply block ink on the plate with a lino roller. Place a piece of paper on the plate and rub/roll the surface smooth with your hands or a roller. Carefully pull the paper off from 1 corner. You can reuse the plate as often as you like.
Caution! The image on the linoleum is printed in mirror image. So pay extra attention to this when making letters and numbers.
Read more
Product Specifications
| | |
| --- | --- |
| Kleuren | Red | Yellow | Blue | White | Black |
| SKUs | LPI/05R100 | LPI/02R100 | LPI/04R100 | LPI/12R100 | LPI/11R100 | LPI/05R100 | LPI/05R100 | LPI/05R100 | LPI/04R100 | LPI/11R100 |
Read more
Share your thoughts!
Let us know what you think...
View or write reviews