Pentel Brush Pen XGFL – Black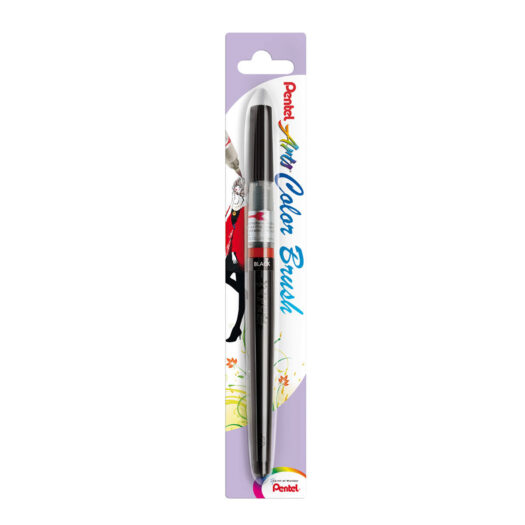 Pentel Brush Pen XGFL – Black
Looking for a brush with a fine brush tip? One that you can take anywhere and use anywhere? Which lasts much longer, because the tip retains its shape? And is it also refillable?
The Pentel GFL Color Brush has it all. This unique brush pen is filled with water-based watercolor ink. This ensures that the colors of Pentel's GFL Color Brush are quick-drying and blendable. This makes it the ideal brush for watercolor, illustrations, manga, comics/cartoons. The soft bristle tip of the Pentel GFL Color Brush allows variable line widths, making it also an ideal brush for brush lettering and calligraphy. In short, the must have for every hobbyist/artist.
Product Features
High-quality, durable nylon bristles help the tip keep its shape
Water based ink
18 colors
Smooth ink flow without leaking
Handy/Portable
Refillable with the Pentel FR Color Brush Refill cartridges
Content: 5 ml
Brush length: 176 mm
Line thickness: 1 – 10 mm
Tips
Hold the tips of two different Pentel GFL Color Brushes together and let the lighter color absorb the darker color. Depending on how long you hold the brushes together, the blending effect can be very different. The longer the tips touch, the longer the color effect can last. To clean Pentel's GFL Color Brush, wipe the tip on a sheet of paper until the original color returns. You can also dip the tip briefly in clean water and wash out the color.
Drop the colors you want to use into a mixing palette and blend them with the tip of the brush with the lightest color.
Start with the lightest color and apply it to the paper. Now take the darker color and add it to the lighter one. Different color combinations and blending effects can be created depending on the amount of liquid colors on the paper.
Combines well with the Pentel XFRH Water Brush, the Pentel XGFKP Pocket Brush and the Pentel Touch Sign Pen Brush
Read more
Product Specifications
| | |
| --- | --- |
| SKU | XGFL-101X |
| GTIN/EAN | 0884851010650 |
Read more
Share your thoughts!
Let us know what you think...
View or write reviews