Montana Tech Primer 400 ml Spray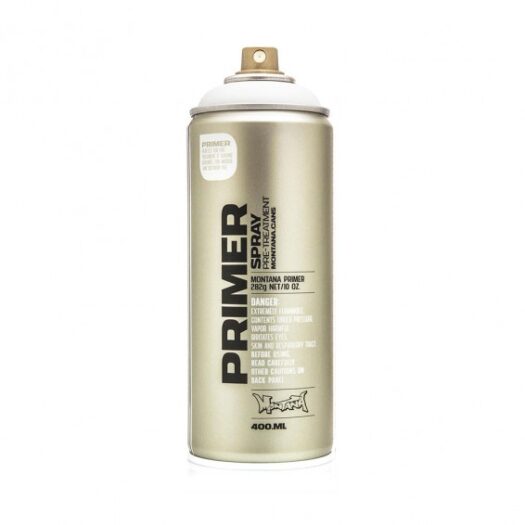 Montana Tech Primer 400 ml Spray
The new Montana Metal Primer is the perfect pre-treatment for metal surfaces that need to be protected against rust. The primer can be applied to metals such as iron, sheet metal or mineral substrates. Montana Metal Primer can be combined with all Montana aerosols on a synthetic, acrylic or nitro-combi base. The drying time depends on the ambient temperature and humidity and can take up to several hours. Available in a 400ml aerosol.
The Montana TECH Plastic Primer T2000 has been developed as a fast drying universal matte primer for plastics. The Montana Plastic Primer is the ideal primer for the pre-treatment of various plastic parts. After the primer has dried, the surface can be sprayed with all Montana synthetic, nitro or acrylic based aerosols. Suitable for the following materials: Polypropylene Rubber, Modified (EPDM), Acrylic Butadiene Styrene Plastics (ABS), Glass-Fibre Reinforced Plastics (GRP), Hard Polyvinyl Chloride (Hard PVC), Polyurethanes (PUR), Polystyrene (PS), Polyamide ( PA). Available in a 400ml aerosol.
The Montana Universal Primer is a quick-drying primer for various surfaces such as leather, cardboard, wood, ceramics, metal and many other materials. The universal primer ensures good adhesion to the substrate with the paint . Also use the universal primer to extend the durability of the paint system. Wearing a protective mask when spraying is recommended.
Montana Gold Polystyrene Primer provides the perfect base coat for polystyrene and styrofoam items, surfaces that would melt if sprayed directly on with an aerosol.
Once this primer is dry, you can work over it with any spray paint without difficulty.
Properties
– Apply the primer in several thin layers
– Allow the individual coats to dry for approximately 3-4 minutes before applying the next coat.
– The underlayer must not be completely cured to improve the adhesion of the new layer.
– The remaining layers may require a drying time of up to 24 hours
– Test the primers on an invisible spot first to test the reaction with the paint or color
Read more
Share your thoughts!
Let us know what you think...
View or write reviews