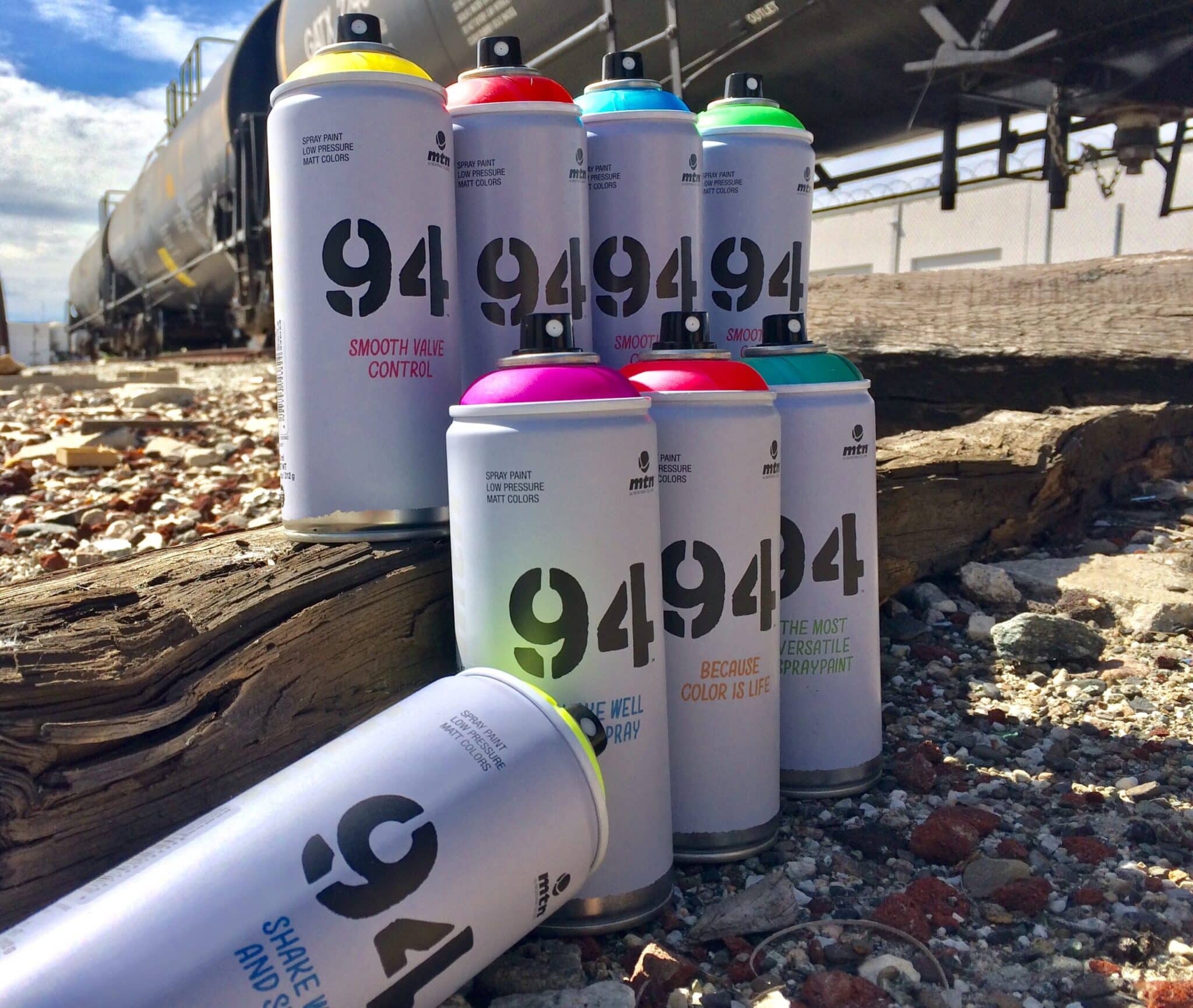 It's spring and time for this review of the MTN94 Fluorescent Spray Paint and the MTN94 Transparent Colors! These two special colour product lines from Montana Colors are designed for specific applications, and therefore, when working with these colours, there are definitely some special factors to consider. We hope this review will give you a good insight into their properties, application possibilities, and pros and cons.
MTN94 Fluorescent Spray Paint
If you want to give your next graffiti or studio project a little juice, it's definitely an idea to consider the MTN94 fluorescent spray paint. They are available in 7 different colours, such as: Fluorescent Red, Fluorescent Green, Fluorescent Yellow, Fluorescent Blue, Fluorescent Orange, Fluorescent Violet and Fluorescent Fuchsia. The MTN94 Fluor paints have the same low pressure and matt finish as the rest of the MTN94 aerosols and they come with the Pocket Cap. The Pocket Cap is a relaxed cap to use, as it gives a medium line and does not clog easily. The line width is about 2 – 2.5 cm in diameter and ideal for painting surfaces of all sizes from small to large.
Technical characteristics of MTN94 fluorescent spray paint
When looking at MTN94 fluorescent spray paint from a technical perspective, there are some things you need to understand about these spray cans and fluorescent paint in general. On the side of each Montana Colors 94 paint can, next to the barcode, is information about the coverage levels and UV resistance of the colour of the individual can. Like any fluorescent paint (due to the action of fluorescent substances in general), MTN94 fluorescent paint has a lower coverage level (2 out of 5) than the normal colour shades. In addition, due to the nature of fluorescent substances in general, they also have a low UV resistance (1 out of 4), which means that they fade faster than normal colours. Therefore, we recommend using MTN94 fluorine in combination with MTN PRO White Base Primer. This primer ensures maximum adhesion to the surface to be covered and provides an even base to bring out the brightest and most solid coverage of the fluorescent spray paint. One last tip, if you are using this for beautiful artwork, or even in your outdoor graffiti piece, we recommend that you finish your work with a coat of varnish spray. This extra layer provides UV protection, making the work less likely to fade.
Graffiti and Fine Art applications for MTN94 fluorescent spray paint
Because the fluorescent colours are so bright, they can give your work an extra "spark", but because of the brightness we also recommend using them subtly. It can quickly become "too much". This brightness makes MTN 94 fluorine shades ideal for making details in your work stand out! Some applications vary from: accentuating your graffiti piece, for example by making the highlight extra pop, or using it on some canvas to emphasise a background, or painting an object in a room, for example, which makes it stand out very much. The applications are endless. What's more, MTN's fluorescents also work well with fluorescent lighting and blacklights – Great for parties! So if you want to add energy to your project, throw a trippy party, or just accentuate something, these fluorescent spray cans are definitely a must!
General characteristics of MTN94 fluorescent spray paint
Bring life to your work
Low coverage
Low pressure
Matte finish
Synthetic base
400 ml spray can
Available in 7 fluorescent colours

Benefits of MTN94 fluorescent spray paint
Gives brightness; makes items/objects visible from a distance
Multiple applications: graffiti, arts & crafts, DiY, industrial, signage
Dries quickly (approx. 10 minutes)
Recommended for use under blacklights and fluorescent lights

Disadvantages of MTN94 fluorescent spray paint
Not very UV resistant; therefore fades quickly
Recommended to use in combination with a white primer as a base for the best coverage of the fluorine shades
It is best to finish the fluorescence paint with a UV transparent layer (varnish)
MTN94 Transparent Spray Paint
Over the years, Montana Colors has developed a series of transparent paint shades that are indispensable in the toolbox for many artists. Originally designed as part of the MTN Alien aerosol line, they now fall under the MTN94 line. The formula has been improved and the capacity increased to 400ml. The primary reason transparents were created was to give artists a tool for adding shadows and highlights to their works. Each layer that you apply on top of the other gets darker, which gives you a lot of control over the details in your work. All 9 colours of the MTN transparent spray can line are available at Suitup. You can choose from the following colours: Shadow Black, Air White, Breeze Green, Atmosphere Blue, Judea Brown, Ethereal Yellow, Aura Violet, Haze Orange and Soul Red. Like the standard MTN94 aerosols, the MTN94 transparent aerosols also have a low pressure with a matt finish and come with the Pocket Cap.
Technical characteristics of MTN94 transparent spray paint
When you turn over an MTN94 transparent aerosol can and look at the coverage and UV information (in addition to the barcode), you will see that the characteristics of the transparent cans are remarkably similar to those of the MTN94 fluorescent paint. However, unlike the MTN94 fluorescent paint, the transparent aerosols are intended to give low coverage.
This translucent formula has been designed and refined by Montana Colors to produce a spray paint that is primarily used in layers. The first coat applied is the most transparent, and then you can apply multiple coats as desired to make the colour less transparent. This is ideal for shadow effects or highlighting. Usually the effect is applied to specific parts of your graffiti piece, mural or canvas, to add depth.
General features of MTN94 transparent spray cans
Low coverage
Low pressure
Matte finish
Synthetic resin base
400 ml can
Available in 9 different colours

Benefits of MTN94 transparent spray paint
Provides shading / marking
Multiple applications: graffiti, arts & crafts, DiY, industrial, signage
Low pressure for precise placement of shadows / highlights
Dries quickly (approx. 10 minutes)

Disadvantages of MTN94 Transparent spray paint
Although the low pressure makes it easy to work with, there is still a learning curve when using transparent paint in shadows and highlights
MTN94 Fluorescents & Transparents Conclusion
Although MTN94 fluorescent spray paint scores low on UV resistance and does not cover well, its incredible clarity cannot be ignored. When used in combination with the White Base Primer and finished with a UV varnish, the low opacity doesn't bother you and the paint and colour remain good for a long time.
Similarly, MTN94 Translucent aerosols also have low opacity, but this is of course intentional, as an aid to artists. These transparencies are the go-to for any creative who wants to experiment with depth and effects next level!