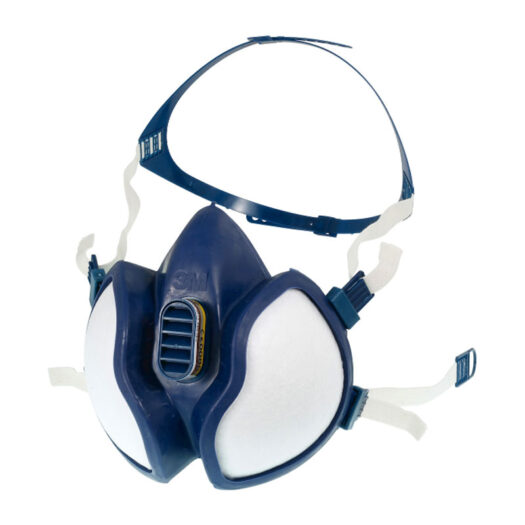 The 3M reusable half-face mask is a comfortable half-face mask of 3M type 4251. Blocks both fine dust and gases, unlike many other masks!
The 3M half face mask 4251 A1P2 is a ready-to-use and maintenance-free half face mask. Designed for effective and comfortable protection against many gases, vapors and dust particles.
Pros:
Soft hypoallergenic material with textured face seal
Central position of the exhalation valve for effective removal of moisture and heat
Adjustable head cradle and neck straps
Comes with resealable carrying case
A1 = protects against organic vapors. P2 = protects against dust from paint, wood, polyester, steel. Not against chromium paint, asbestos, fumes and gases
Ready-to-use and maintenance-free half masks. They are designed for effective and comfortable protection against many gases, vapors and dust particles. Thanks to the unique filter technology, one
design with a very low profile, so that the view is not obstructed, making working life a lot more comfortable.
Maintenance-free half mask.
Soft, textured face seal provides a comfortable fit for the mask.
Lightweight and well-balanced for comfort over a longer period of use.
Both side inhalation valves and large multi-layer carbon filters to reduce breathing resistance, complemented by a low resistance parabolic exhalation valve to reduce heat build-up.
The low profile provides a wide field of vision and compatibility with 3M ™ eye protectors.
User-friendly: no assembly, maintenance or registration required.
Easy and safe adjustment of the neck strap and head harness.
Optional overspray filter guard extends dust filter life during paint spraying.
Maximum product weight 320 grams.
Read more
Product Specifications
| | |
| --- | --- |
| SKU | 04318 |
| GTIN/EAN | 4046719313655 |
Read more
Share your thoughts!
Let us know what you think...
View or write reviews