Pébéo Setacolor Fluorescent Light Fabrics 45ml Textile paint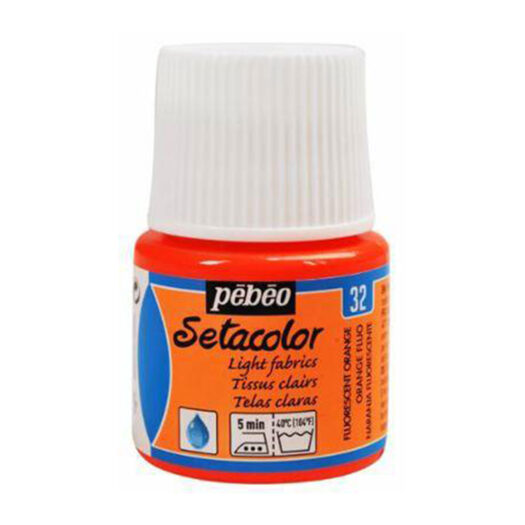 Pébéo Setacolor Fluorescent Light Fabrics 45ml Textile paint
The Pebéo Setacolor Light Fabrics Fluorescent have vivid and bright colours for your light fabrics. 5 fluorescent colours for your creations that will preserve the softness of your fabrics. Depending on the light, the paint gives a distinctive look to be discovered!
These 5 fluorescent textile paints are water-based and can be used to decorate your light-coloured fabrics. The colours can be mixed with each other. Excellent light fastness.
Drying:
Air dry after 1 hour
Surfaces:
Most thin or thick fabrics, with natural or synthetic fibres, pre-washed.
Dilution:
Ready to use colours.
Opacity:
Opaque colours.
Finishing:
Fluorine effect colours
Attachment by two methods:
1) With an iron on the position of the cotton, for 5 minutes no steam on the back of the fabric;
2) In the oven, for 5 minutes at 150°C (300°F) (stabilized temperature).
Aftercare:
(decorated fabric): after fixing, the colours are resistant to machine washing at 40°C (100°F) and hand washing.
This Pébéo textile paint is easy to apply with brushes, sponge, dropper, acetate, etc. Good to use in combination with QBIX stencils!
Capacity:
With a 45 ml jar you will cover an average of 0,2 m2 (you will cover 4 to 5 m2 per litre)
Product details:
– in 20 shiny colours
– can be used on light fabrics
– suitable for cotton, wool, velvet and non-woven fabrics
– water-based and can be mixed together
Fix with an iron. Washable up to 40° C.
Read more
Share your thoughts!
Let us know what you think...
View or write reviews