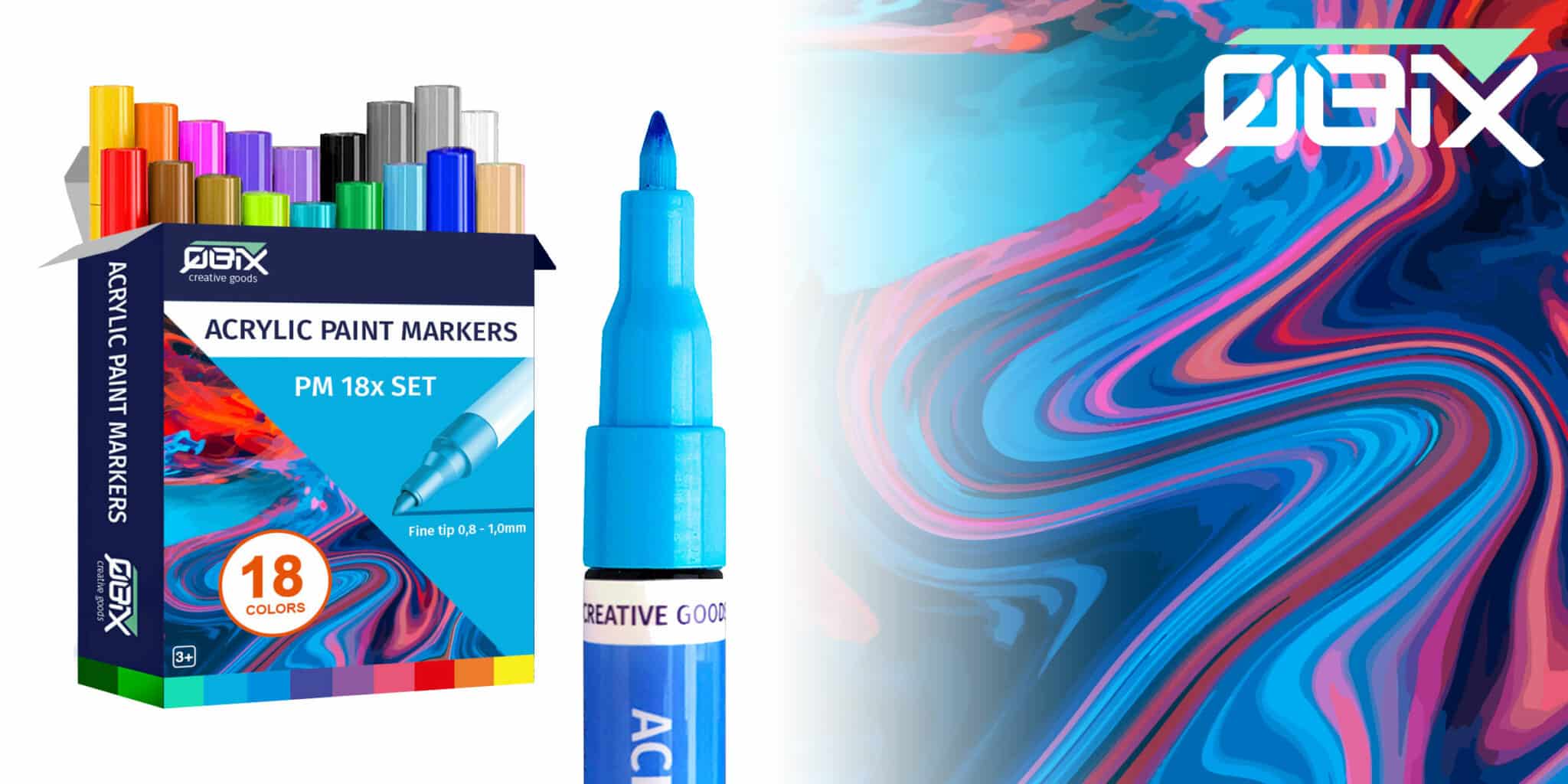 We at Suitup are huge fans of QBIX. The stencils were already very popular, but now even more products have been added to the range. The stencils are available with letters, numbers, patterns, shapes and much more. They are ideal for use in street art and graffiti, but also very useful for pimping your interior. Besides stencils, QBIX releases more and more other art products like brushes, Tie Dye, clay and now markers too! Meet the new Acrylic Paint Markers, Watercolour Brush Pens and Permanent Textile Markers from QBIX. Discover in this blog what the paint markers are for and what you can do with them. Get inspired and let your creativity run wild!
QBIX Acrylic Paint Markers

The QBIX Acrylic Paint Markers contain high pigmented acrylic paint of fantastic quality. The paint markers are very versatile as you can use them on almost all surfaces. The markers are, in quality and use, comparable to the well-known Molotow and Posca markers, but are a lot more affordable. The acrylic paint ink dries very quickly, so that you do not have to wait long. The paint gives a good opaque coverage and has a glossy finish. It is easy to apply several layers over one another or to mix the colours. Use the markers on various surfaces, such as stone, metal, earthenware, treated smooth wood, plastic, cardboard, canvas, fabric, polymer clay, cardboard, paper and more! The fine tip of 0.8 – 1 mm is perfect for detailed drawing and fine line work. The markers are also perfect for painting rocks. Make beautiful rock art to display at home or hide the painted stones outside to put a smile on the face of the lucky finder. Also be creative in designing mugs, glasses, plates and whatever you want! The QBIX Acrylic Paint Marker are available in sets of 12 or 18 colours, great for yourself or as a gift.
QBIX Watercolour Brush Pens

The Aquarel Brush Pens from QBIX are filled with high quality watercolour paint, ideal for making beautiful watercolour paintings and drawings. The pens are available in a complete set with everything you need. Create any shade with the 24 bright colours. Mix the colours with the 2 empty water colour pens supplied. The set also contains water colour paper on which you can practise your water colour techniques. The pens come in a handy plastic sleeve so that you can easily store and carry them with you. The pens have a soft brush-tip, with which you can paint calligraphy very easily. Go wild with handlettering or with painting watercolour flowers, landscapes and whatever you like! The pens are ideal for beginners, advanced and professionals. As the pens contain water colours, they are non-toxic and therefore suitable for children. Experience 100% carefree painting fun for the whole family with the QBIX watercolour brush pens!
QBIX Permanent Textile Pens

QBIX textile pens are ideal for decorating fabrics. Pimp your old clothes with unique designs or write a personal message on a pillowcase. The ink dries quickly and is permanent. So you can still put your decorated clothes in the wash without worrying that your design will fade. The multifunctional pens are also great for use on paper. The set contains 26 bright colours, everything you need for any kind of design. The pens are non-toxic and therefore suitable for children. The round tip glides smoothly over all kinds of textiles, without snagging. Use the pens on white or light-coloured fabrics for optimum results. Create beautiful, unique designs on textiles with the markers from QBIX!
Be creative with the markers from QBIX!