Posca XL 26x Marker Set – Classic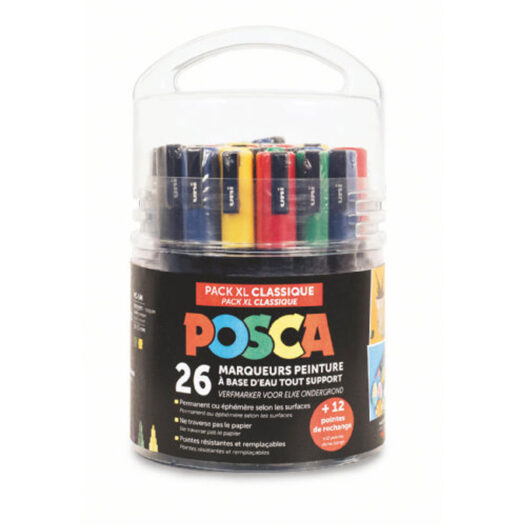 Posca XL 26x Marker Set – Classic
Water-based marker and pigmented ink. Ideal for painting, drawing, writing and marking on any surface. With impermeable, bright colours. Opaque, rewritable, mixable, water resistant, consistent with prolonged exposure to light and odourless. Suitable for all surfaces. Permanent on porous surfaces.
This Posca XL Marker Set contains 26 markers, plus replacement tips.
Content:
14 x PC3M Markers – 3 x red – 3 x dark blue – 3 x dark green – 3 x yellow – 2 x black
12 x PC5M Markers – 3 x red – 3 x dark blue – 3 x dark green – 3 x yellow
+ 12 replacement tips, 6 x PC3m and 6 x PC5M
The Uni-Posca Acrylic Markers are a great product for artists and hobbyists. We carry all available colors and thicknesses in our extensive range.
Tips for using the Uni-Posca Markers. Shake your Uni-Posca Acrylic Marker well with the cap on to circulate the pellet. Then press the tip several times on a sheet of paper, so that it gets soaked with paint. The function of the bullet is to mix the ingredients during use, which gives the work a homogeneous texture. Uni Posca acrylic markers are opaque, dry quickly and are waterproof. The colors can be mixed while the paint is still wet, and effortlessly repainted once dry. All Posca points are washable and some are reversible or replaceable. The Uni Posca
Acrylic markers are suitable for many different surfaces and have been tested on several others:
– Textile
– Wood
– Glass
– Plastic materials
– Minerals
– Ceramic
– Porcelain
– Metals
Read more
Product Specifications
| | |
| --- | --- |
| Color Filter | Black, Blue, Green, Red, Yellow |
| SKU | POT POSCA/20+6 001 |
| GTIN/EAN | 3296280039497 |
Read more
Share your thoughts!
Let us know what you think...
View or write reviews