Molotow 411 EM Refill set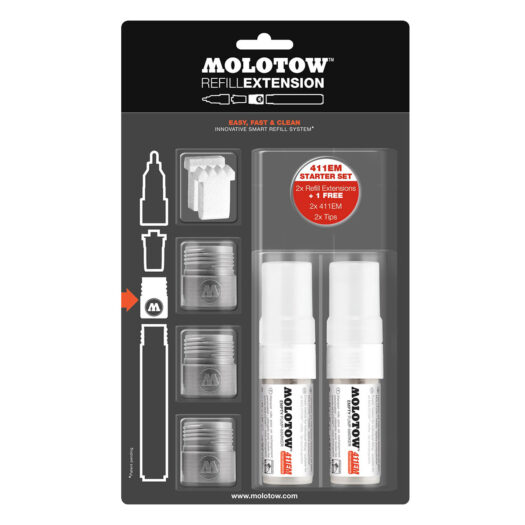 Molotow 411 EM Refill set
The Molotow 411EM marker extension set offers you two empty Molotow 411EM markers with the correct accessories. In addition to two replaceable tips, the set also contains three refill extensions.
These are screwed, with the valve in, between the head and the body of the marker. Now when you want to refill, you no longer have to touch the dirty valve and keep your hands clean.
Contents of the Molotow 411EM Marker Refill extension set:
– 2x 411EM blank marker, each with a 15mm wide tip
– 3x Refill extension
– 1x Tip (20mm) Interchangeable T-Style Tip
– 1x Replacement Tip with Zig Zag Tip (20mm)
The ability to refill the paint and replace the tips saves money and protects the environment.
The Refill extension attachments can also be used for the following markers: 427HS, 627HS, 411EM, 611EM, 420PP, 620PP, 440PP, 640PP, 460PI, 660PI, 760PI, 467PI, 667PI, 767PI.
Read more
Share your thoughts!
Let us know what you think...
View or write reviews