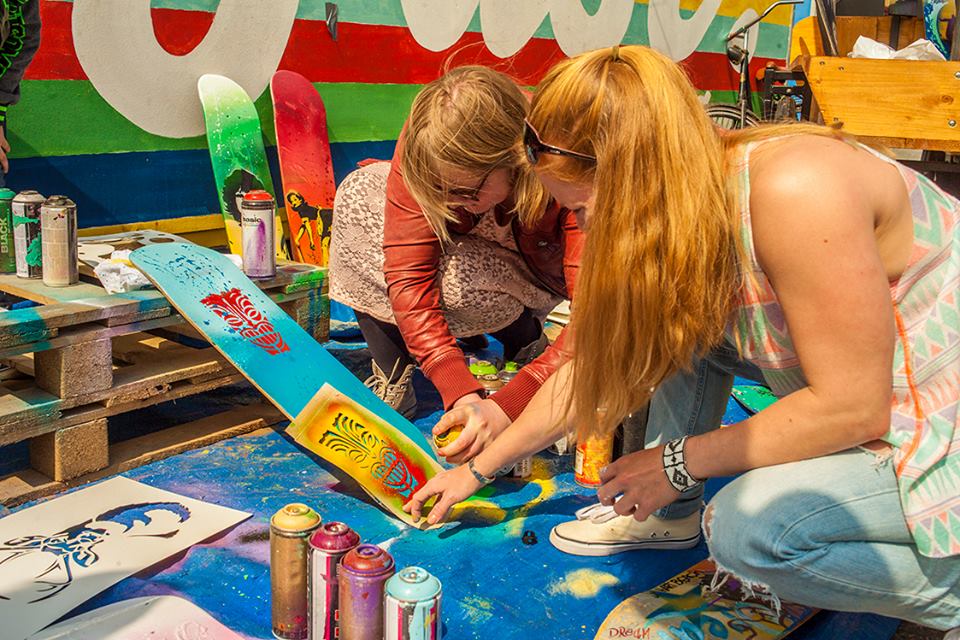 Graffiti has become mainstream and therefore graffiti workshops are also very popular. People like to create something. Graffiti workshops are organised for children's parties, company outings or for example family weekends.
There are many companies, run by graffiti artists who organise workshops on a daily basis. This is a nice way to learn from a professional, but some people prefer to organise a workshop themselves. We often get calls asking us which spray cans and which colours are the best choice for a graffiti workshop.
With this post, we want to explain some things about graffiti workshops. We divide the workshops in two forms. You have the graffiti-letter workshop and the stencil-art workshop.
The graffiti-letter workshop
At the graffiti-letter workshop the participant makes up his/her own graffiti name. Then it will be explained, what makes a letter, a graffiti letter. You will learn the basics about bits, arrows and 3D and make a sketch based on this knowledge.
This sketch you will then realize on a wooden plate or large canvas (+/- from 100 x 60cm). You need space because otherwise it becomes a fiddle. You will learn how to build a graffiti piece. First, you transfer the sketch from your paper to the plate or canvas. Then you fill the sketch with one or more colours and patterns, after which you apply shadow/3D. When all this is done, you close your piece with an outline and finally you add the highlights.
You finish the workshop with a complete piece, which you can hang above your bed. To organise this workshop, it is important to know how to build a graffiti piece. Good guidance is therefore no luxury! Finally, this is a very nice workshop form to get acquainted with the classic form of graffiti.
The stencil-art workshop
The second workshop form is the stencil-art workshop. Stencil-art is known by artists like Bansky. Stencil-art can be done on walls in cities as well as on smaller canvases (+/- 40 x 50cm). The workshop can be divided into two steps. First, the participants can design and then cut their own stencils, or you can skip this step and use ready-made stencils (for example, the stencils from QBIX). You can also combine it. It is fun to cut your own letters, so you will understand the principle. For example, with a letter o you have to work with brackets, because otherwise the middle falls out. Patterns and very detailed designs are more boring to cut, you could use a ready-made stencil for this.
The second part of the workshop consists of pimping your canvas. You start with the background. You can make it as crazy as you want, think of paint splatters, patterns, etc. When you are finished with this, you have to let it dry completely. Otherwise the stencils will stick to the canvas! Fortunately, spray paint dries very quickly.
Next, you continue with the application of the stencils. The design can be anything, but if you use a stencil with two layers, for example, then it is advisable to use a strong colour contrast between the two layers.
The street-art workshop is a very accessible workshop for young and old. This form requires no practical knowledge of graffiti and is therefore more accessible for workshops without professional guidance.
A few points to take into account
For a graffiti workshop it is important to have a black and white spray can and around it a range of primary colours. In addition to the primary colours, it is always nice to have a darker or lighter shade so that you can make transitions. The fresher the colours, the fresher the end result. A tip is to use the black and white spray cans only when the participants are ready to outline the graffiti letters, or in the stencil-art case the stencil layers (see Biggie's example above). This ensures that the surface is always cosy.
If you are going to work on a wooden plate, it is advisable to first cover the plate with latex (cheap white latex from Action is fine). This ensures that the spray paint does not soak into the plate too much and therefore the spray can lasts longer! With one spray can you should be able to cover approximately (depending on the user and the type of surface) two square metres.
Finally, it is advisable to work with low pressure spray cans and skinny caps. Low pressure ensures that (compared to high pressure) you have more control over your spray can and a skinny cap ensures thin lines, which means that you don't get drips as quickly.
Our preference for workshops is therefore for Flame Blue spray cans. They have a low pressure and are supplied with a skinny cap as standard. An extra advantage is that they are based on acrylic and therefore less toxic!