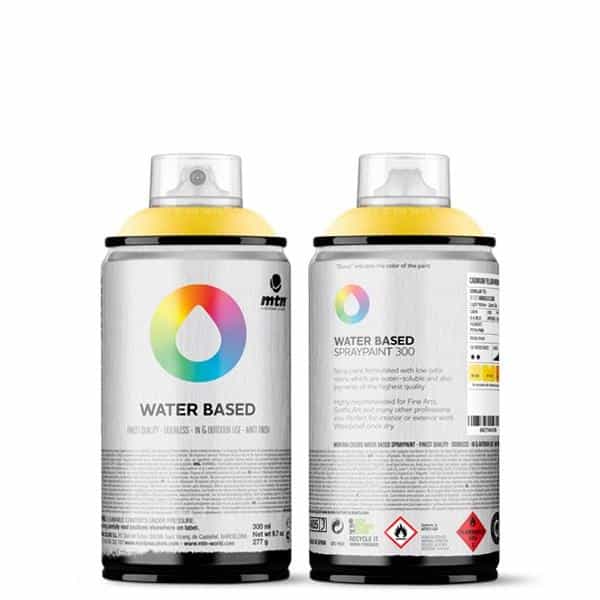 Montana Colors Water Based Spray Paint is a revolutionary spray paint with unique features that has changed the graffiti and urban fine-art world. If you are not yet familiar with Montana Water Based Spray Paint, we have gathered all the basic information about these water based spray paints for you.
Montana Water Based Paint: Revolutionary Spray Paint
In 2014, Montana Colors developed the MTN Water Based Spray Paint, a water based spray paint, which is available in a 300ml and recently also in a 100ml spray can. The low pressure spray can was launched with a range of 52 matte finish colours (and currently another 100 colours are available), which correspond to traditional pigments.
This product was developed to appeal to a new target group of users. Montana Colors noticed that more and more artists are working inside with graffiti paint. For example to work on canvas or to decorate walls. Besides working in a studio, spray paint is also increasingly used inside studios. Think of architects, for making models, in model making or other creative applications. In addition to these professional applications, spray paint is also often used indoors for use at workshops and/or children's parties. However, there was a lack of a spray can that was specially designed for this application. An aerosol can that is non-toxic, can be used on Styrofoam and other soft plastics, and gives off very little odor.
Montana Colors developed some of the technological advancements in the aerosol world in search of new formulas that are more ecological and have less chemical impact. The creation of this water based aerosol was an important step in this direction. To support the launch of a revolutionary spray paint, Montana Colors gave it the simple and clear name MTN Water Based 300.
MTN Water Based paint is easy to use, odourless and versatile.
The MTN Water Based 300ml spray can is slightly smaller than the standard 400ml spray can. The reason for this is that a smaller spray can is more comfortable to use. It is more manoeuvrable for fine work, for example on canvas and is also more suitable for smaller hands, such as those of children.
The aerosol can is very versatile in use, for example (because the paint is water-based) you can use extra water as a solvent, for example, to dilute it and then paint with a brush. There is therefore plenty of scope for experimenting with different tools and easy mixing with other colours once they have been applied. As long as the paint is wet, you can mix it or remove it with a wet sponge, but when it dries, the water-based paint is permanent!
From canvases to sketches, to sculptures… the applications for which these spray cans can be used are endless! For example, in California and Hawaii, several surfboard makers use MTN Water Based as their #1 tool for pimping surfboards, due to its absence of typical spray paint chemicals.
With all these features, Montana Water Based 300 is the perfect indoor sprayer for a wide range of applications. The size, the properties of the paint and especially the low odour make it the most suitable paint for graffiti, fine-arts and other indoor applications. Don't work indoors? MTN Water Based is also a great tool for graffiti, street art and large scale murals.
MTN Water Based Colours
MTN Water Based was released with 52 original colours with names of the original pigments used in the art world. Using these recognisable names, the colour range defines its own colour identity (in relation to the Hardcore and 94 series) and provides the fine art paint specialist with a familiar tint identification system.
From indoor use to bombs
The graffiti world has a peculiar tendency to adapt products that are designed for a totally different purpose to meet the needs of graffiti. A good example is the Sakura Solid Paint Stick, which was actually developed for the steel industry, but which allows you to tag so nicely on rough surfaces and it stays on so well.
In the case of MTN Water Based Spray Paint, something similar happened. Many graffiti writers use MTN Water Based when they go out. The paint is odourless and this helps it not to be noticed. Especially many train and underground writers swear by Water Based Spray Paint to avoid getting caught.
Ultimately, Water Based Spray Paint is the only solvent-free spray paint on the market. Beware of water based sprays that advertise 'Acrylic Formula' on their aerosols. These are not entirely water based. Instead, they refer to the chemical nature of the resin (Alkyd, Acrylic or Nitro) and are entirely solvent based and, in turn, not healthy for indoor spraying. If you are looking for a humane and environmentally friendly water based spray formula, .MTN Water Based is the one!
Interested in Montana Colors Water Based Spray Paint? If you click here you will see the full product range.